Headed back into the office soon?
Staying in your home office forever?
Either way, you're probably on camera more than you'd ever imagined. You're probably on camera more than a typical TV reporter. These days, talking to a camera for 3-4 hours per day is normal. Just another day. Not weird at all.
Some marketers are podcasters and YouTubers. Naturally, their desks are mini-studios. But like it or not, with this much remote facetime, we're all working in mini-studios now. Maybe it's time to upgrade.
"Hey your picture is amazing. What camera are you using?"
We reached out to a bunch of marketers to answer that question. We've included the list of gear for each in case you'd like to emulate their setup. A few things you'll notice:
The cameras
The DSLR camera has 10x better quality than any webcam. It has an actual lens, HDMI out and usually a "cam link," which is a little adaptor that tells your laptop to treat it like a webcam.
The lights
Serious, but inexpensive lights make a huge difference
The mics
Headsets and earbud mics are common, but the nice mic on a boom is becoming very popular.
The other stuff
From clean to cluttered, trimmed down to built up, It's amazing the variety of workspaces.
Ready? Let's peek into the homes and offices of some of the truly great marketers…
Tamsen Webster's "Complete studio in a hideaway package"
Founder & Chief Message Strategist, Find Your Red Thread
We'll start with Tamsen, partly because her setup features the big DSLR camera upgrade. When you see her videos, you'd think she has a production team and $100k in equipment.
She does it all with a very minimal setup. Everything is foldable and portable. It needs to be. Tamsen's "desk" is also the dining room table.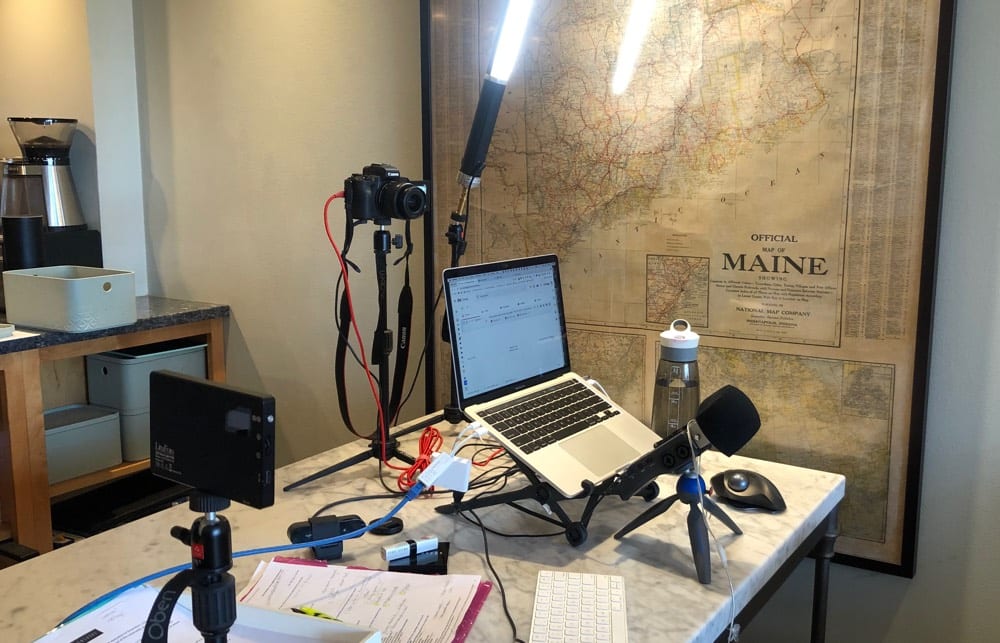 Camera: Canon EOS m50 (kit lens) and Ecamm Pro (allows me to use the Canon as a virtual cam in all other programs: Zoom, virtual event platforms, etc.)
Audio: Zoom H6 audio recorder with the MSH-6 mic capsule + pop filter
Lights: Ice light on a Oben TT 300 tripod in front of me (the camera is also on one of those tripods), and a LituFoto LED light on a third tripod to the side of me. When I'm feeling super fancy, I'll use a pair of Neewer lights instead of the Ice Light.
Just look at the difference a DSLR, cam link, and lights can make. Here's what Tamsen looks like on camera. This is an A+ production quality shot with $800 of equipment from a dining room table.
#nofilter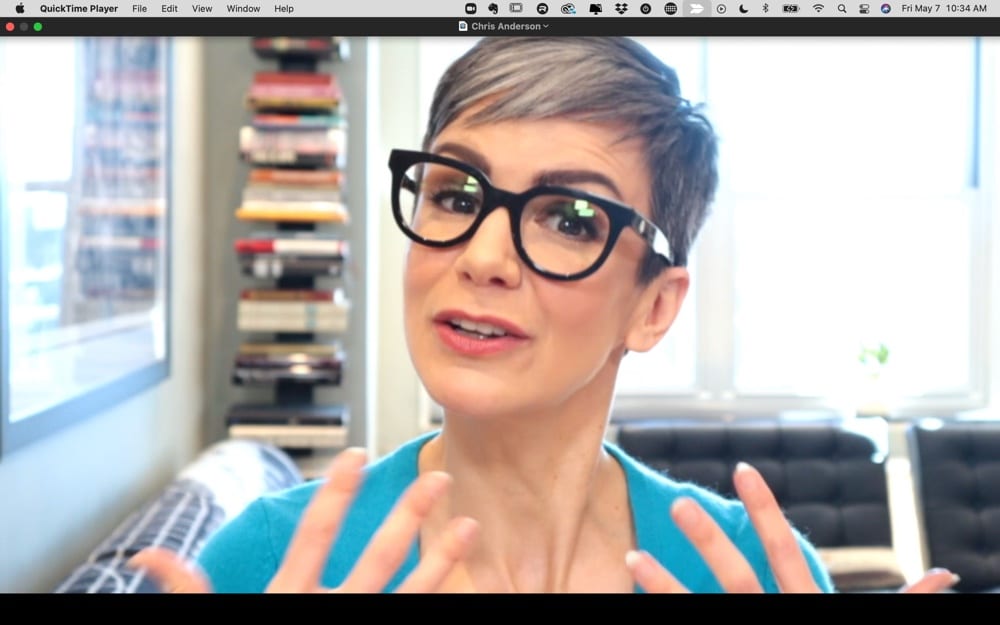 Ann Handley's "Tiny House Studio"
Chief Content Officer, MarketingProfs
Big reach from a little house. Ann famously works in a tiny house in her backyard.
It's from this little desk that Ann drives the content for MarketingProfs, developers blockbuster keynotes and writes her beloved fortnightly newsletter, Total Anarchy. That's the keyboard where it was written, that article that both pushed your thinking and warmed your heart.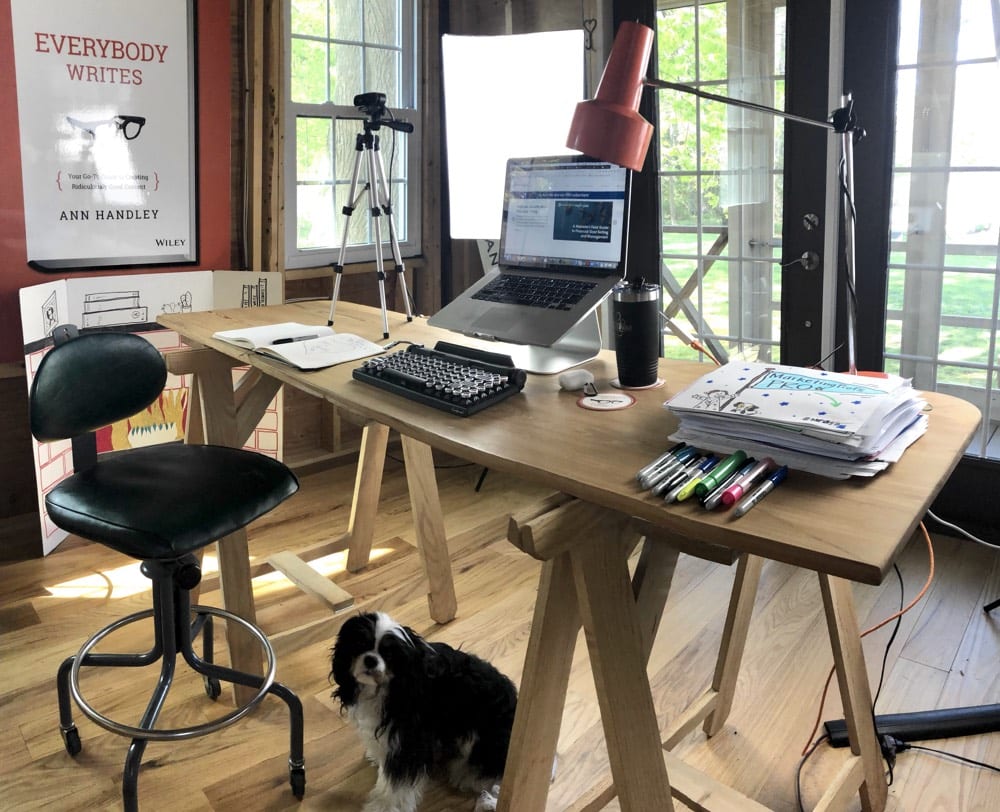 Yes, the picture quality and lighting are amazing. But this writer's space isn't just about words and pixels.
Look around. Many of the objects have history and meaning.
Room: Left-to-Right
Original promotional poster from the first book signing I ever did of Everybody Writes.
Sharpie fireplace for Virtual Fireside Chats with Ann (and also it's for warmth, duh)
Box light
Tiny French doors lead to Tiny Porch and regular-sized yard ("garden" for the Europeans in the house)
Just out of frame… Second box light, pile of notebooks, some fake backdrops I've been sent and never have used because I don't like fake backdrops
Desk: Left-to-right
Notebook
Camera
Elevated laptop (hardwired — a game-changer)
Qwerty bluetooth keyboard
AirPods
Water (hydration very important)
OG Everybody Writes promotional coasters (1 of a handful still wicking drink moisture left in the world).
Vintage mid-century modern orange lamp scavenged from Maine, Ann-alog slides drawn during quarantine for virtual presentations, writing tools of choice (Sharpies)
Floor:
Desk made from the top of a workbench found in a New England old barn; vintage industrial chair*
Wires/cords I thought about hiding but this isn't a Pottery Barn catalog so… leaving them in. #KeepinItReal
My best friend
*a sticker on the bottom says it's from "Inter Royal Company" at 1 Park Avenue, New York City. "1 Park Avenue" is now known as "One Park Avenue" — spelling out the number jacked up the rent. It's now home to NYU offices, an Equinox outpost, and an espresso bar. Inter Royal Company is nowhere to be found except on eBay.
Joanna Wiebe's "Home of Poison and Gold"
Conversion Copywriting Expert and Founder, Copyhackers
To think, this is where she does it. The business impact, the deep insights discovered and shared, the lessons learned and passed along to millions. It all happens right here.
Jo apologized for the mess, but this rate is super clean in my book. She's running with the built-in mac camera, but she's got nice lights. Takeaway: lighting is more important than the camera.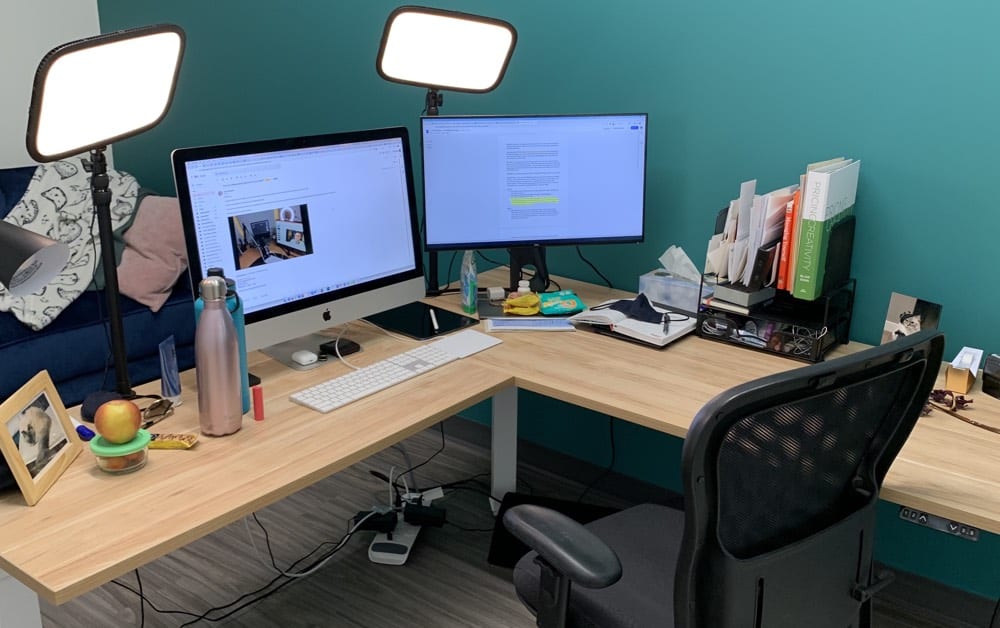 Computer
Second monitor
Some lights
Healthy snacks
Gini Dietrich's "The Homeschooling and Hashbrown Haven"
Founder & CEO, Spin Sucks
Gini gave up the office lease 10 years before Covid was a word. The idea was to "hire the very best people for the job, no matter where in the world they live." So she's a home office pro.
She's also a mom to a little girl. This picture is both home office and homeschool.
Building a world-class professional development platform on the left.
Hamsters and homeschooling on the right. (The hamster's name is Hashbrown.)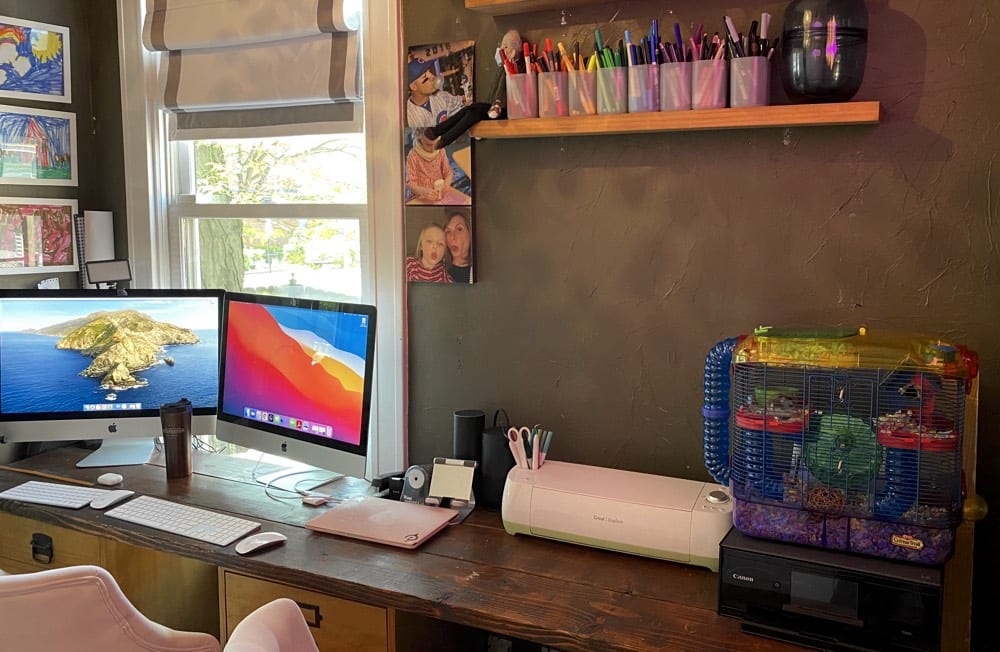 27-inch iMac with Retina 5K display
13-inch MacBook Pro
AirPods Pro
Apple extended keyboard
Magic mouse
Lume Cub light
Blue Yeti USB Microphone
Alexa G2 Echo Speaker
Bose Portable Smart Speaker
Cricut Explore and accessories
Canon TS9120 printer
Why the printer, Gini? "Because, when kids learn from home, they need to do work on actual paper, so this a new addition since March of last year."
The rest of the room is just as colorful and creative. Gini tells me I need some of these Nanoleaf light panels. I agree.
Here's another marketer balancing parenting with production…
David J.P. Fisher's "Living room with baby"
Speaker, Author, Coach, Podcast Host, President, Rockstar Consulting
My good friend D Fish is keeping it real.
"I was sharing a 'home office' in a two-bedroom condo with a wife who was also working from home and a 1-year-old.  So I had three office desks: the one in my old office/son's nursery, the living room, and sometimes a (mostly-deserted) co-working space."
From this space, he's delivered 40+ live webinars, 75+ live streams, and countless Zoom calls. Amazing.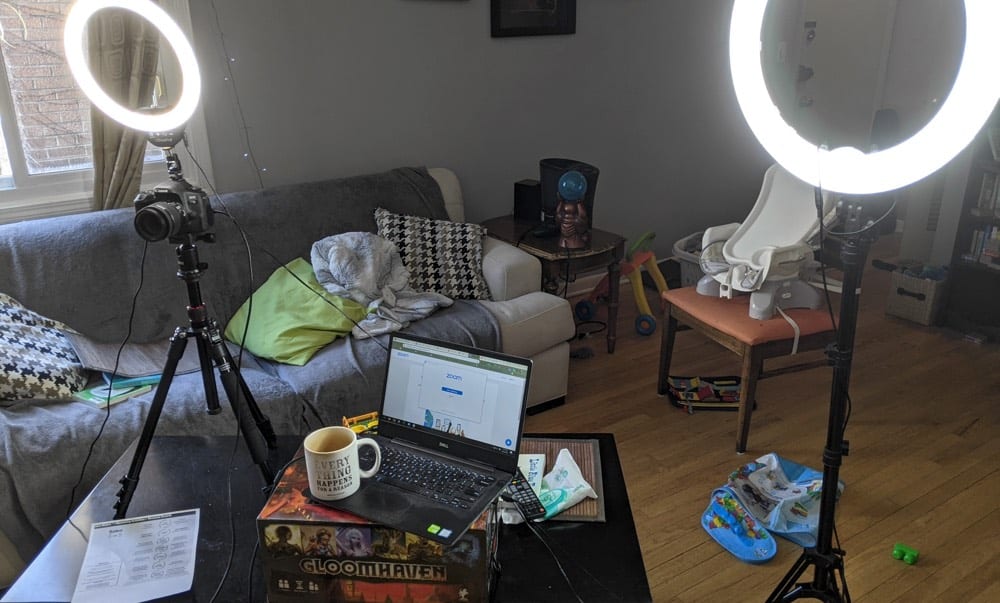 Canon EOS 77D
Ring lights (12" and 24")
Wired USB lavalier mic
Wireless earbuds to hear (I like the quality of the lav mic for my own audio)
Laptop stand: Boardgame boxes or old dictionaries
Occasional toddler chaos for funsies
Don't worry about D. He's moving soon.
Robert Rose's "The TCA Global Command Center"
Chief Troublemaker, The Content Advisory
Robert was the first person to explain the DSLR-as-webcam difference to me. He's a production pro, which makes sense. He does tons of virtual conferences and he's a musician with recording studio experience.
For Robert, building out his setup has been "a year-long adventure." It looks finished to me.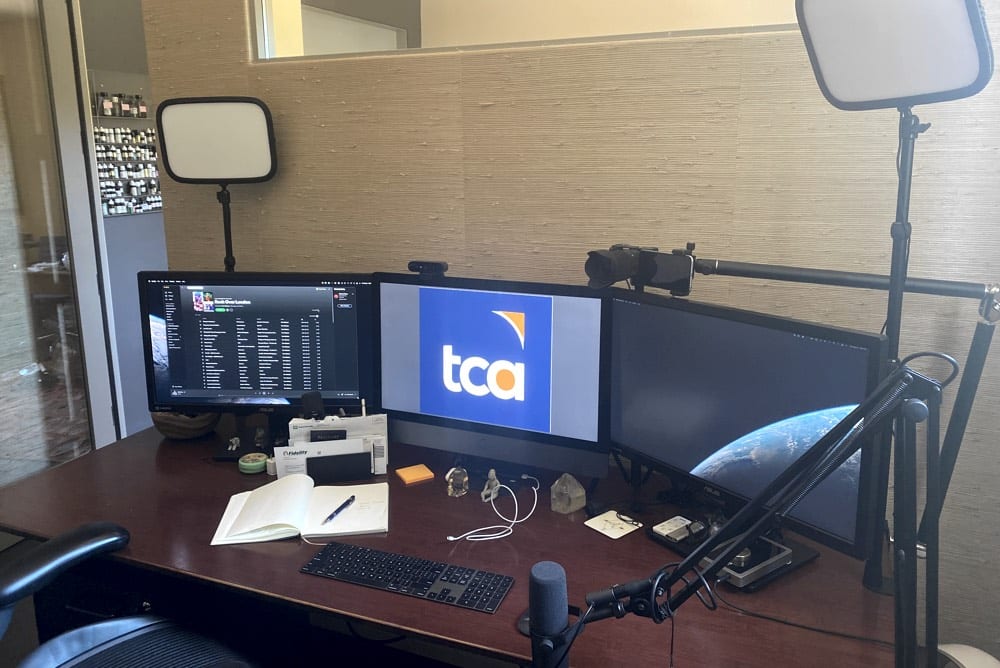 Left-to-right
Elgato Key Lights – 2 – for lighting workshops and/or keynotes
Camera 1: Logitech Brio Ultra HD
Camera 2: Sony A6100 DSLR with Sigma 16mm f1.4 Lens
Old iPhone 6 (Which acts as teleprompter for scripted videos)
Audio Interface Duet by Apogee (for multiple mics)
Mic 1: Shure SM7B Dynamic Vocal Microphone with microphone desk arm
Mic 2: Comica CVM V020 XLR Lavalier Lapel Microphone
(Not shown) Elgato Cam Link 4K USB – for converting DSLR to webcam
(Not shown) Mackie Cr3-X Multimedia Monitors (speakers)
Joe Pulizzi's "Content Barlor"
Founder, The Tilt
What's a parlor? I asked. "A parlor is like a parlor where drinking is prevalent." In Joe's case, a lot of high-quality, long-form content is also prevalent.
Joe's currently working on the updated Content Inc. book launch. Think of it. Best-selling books get written at desks like this one.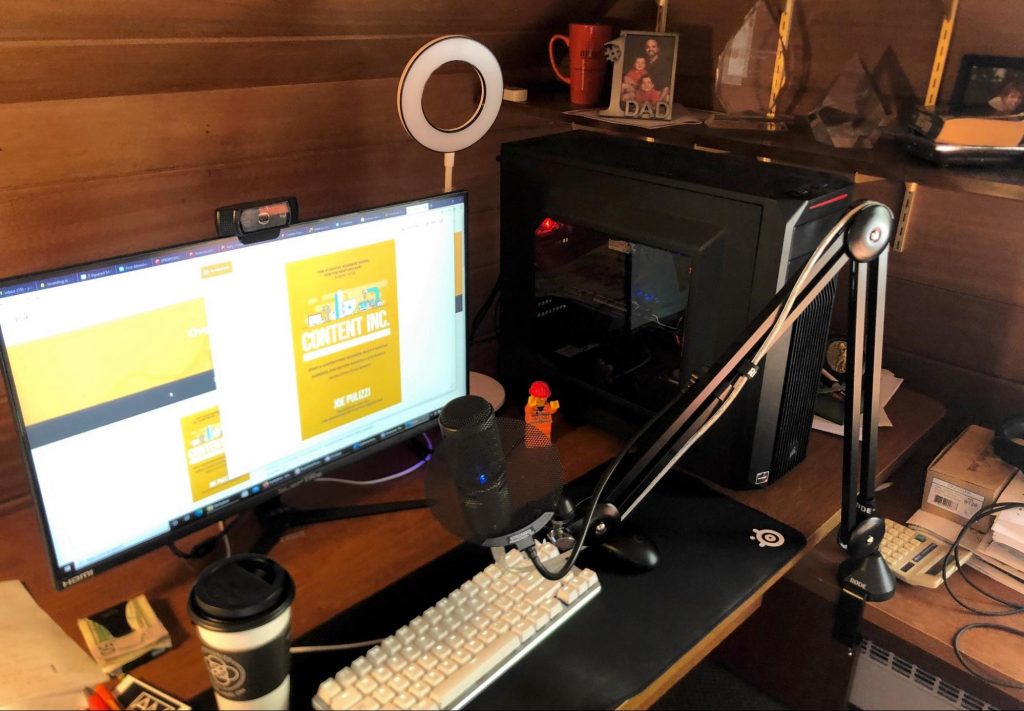 Audio Technica Mic
Rode Mic stand
Logitech webcam and ring light
Picture of my boys and I in the background
Orange LEGO construction dude
Various awards in the background that are hard to read
Coffee from 5 Points Cafe (our local coffee shop)
No laptop? He uses a custom computer his sons built for him.
Is that a calculator? I love you, Joe. Gen X forever!
Drew Davis's "Virtual Keynote Master Control"
Keynote speaker, author, creator of The Loyalty Loop
Unfair! When your background is in TV production, you learn a bit about how to set up a studio. Drew's space is a masterpiece.
He switches between cameras at the touch of a button. Drew gives you a bird's eye view while he sketches on paper, the click! He's making perfect eye contact by using a teleprompter. Great lighting, great sound. But don't turn on that ceiling fan, Drew!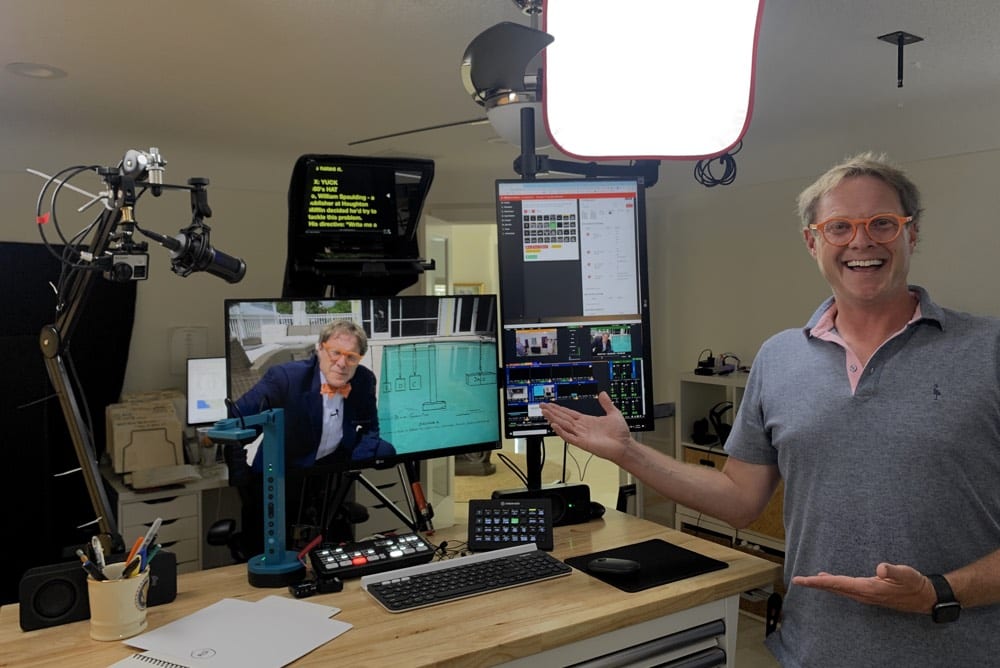 Cameras:
Sony A6400 x2 (…why two, Drew?)
Lumix G85x
GoPro Hero 4
IPEVO VZ-X Document Camera (this points down onto his desk from above, so he can sketch diagrams in real time during presentations)
Monitors:
2 LG 27″ LCD Display Monitors
Mics:
Rode Wireless Go Receiver and Transmitter
Audio Techinca 2020
Software:
Switchers:
Blackmagic Atem Mini Pro Live Stream
Elgato Stream Deck XL
Lights:
3 Neweer LED Video Lights
2 Kamerar D-Fuse Softboxes
Prompters:
Desview T2 Teleprompter
Caddie Buddy Professional Prompter
1 Custom Built Homemade Lightboard
100 random cords, doodads, dongles, connectors, and power strips.
1000 hours of frustration, testing, and rehearsing…
Mitch Joel's "Top-shelf broadcasting from the comfort of my reading room"
Founder, Six Pixels Group
"Watch what the live streamers are doing" This advice from Mitch stuck with me. He's right. The gamers are way out in front with their setups. Mitch is right there with them.
The Elgato Stream Deck is that colorful box on the right. It lets Mitch quickly switch between scenes and launch media with the touch of a customized button.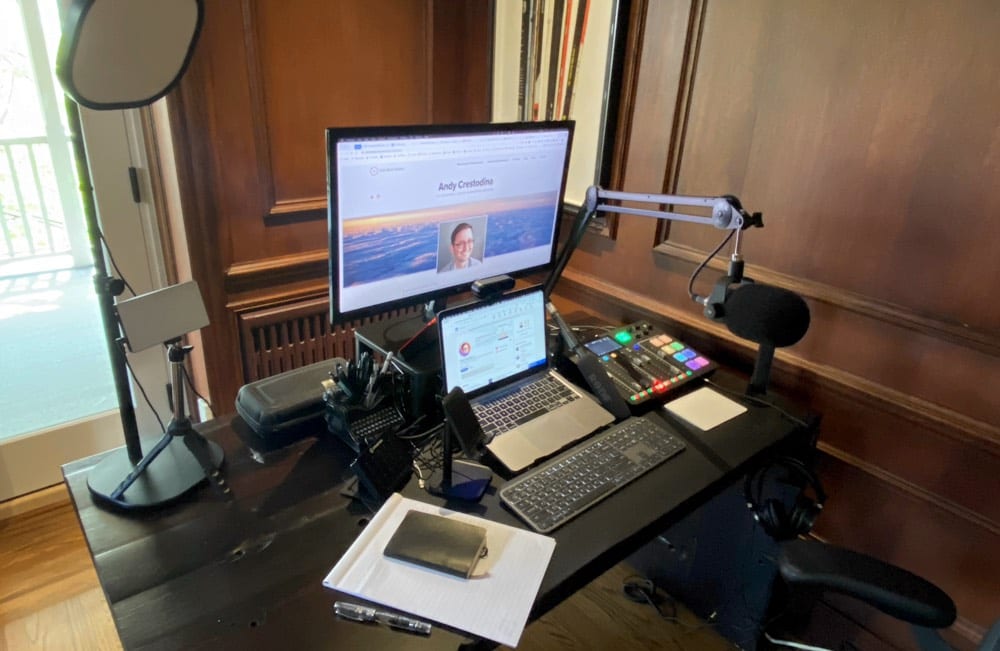 MacBook Pro M1
LG 27 inch Monitor
Logitech MX Keys
Apple Magic Pad
CalDigit TS3 Plus hub
Logitech Brio HD webcam
Elgato Stream Deck
Rode PodMic
Heil Radio Boom Arm
Rode NTG2 Shotgun Mic
Rode RodeCaster Pro
Audio Technica M50X Professional headphones
LituFoto N126 Light
Philips Hue Light
Elgato Key Light
Jeff Large's "The Come Alive Command Center"
Podcast host, producer, and Founder/CEO of Come Alive Creative
Jeff has it dialed in. Come Alive produces podcasts for clients with exquisite attention to detail. That's reflected in the space. When your life is audio, who needs lights? Why hang stuff on the wall?
Clean but not sterile. There is a plant in that window.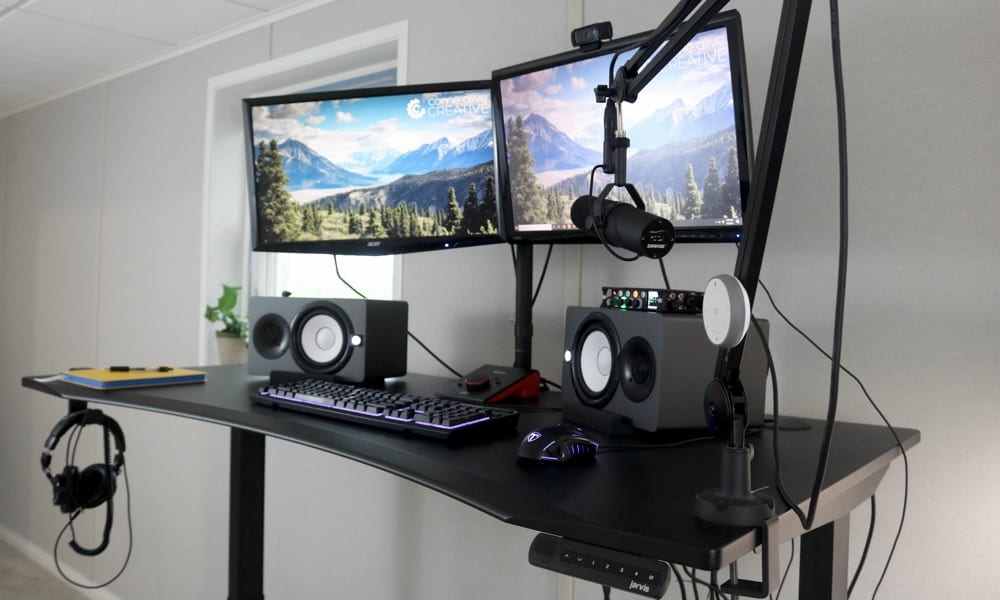 Jeff gets asked for equipment recommendations so often that he's put it into this post: Podcasting Equipment. Here are the highlights:
Mic: Shure SM7B
Boom stand: Auray BAI-2N Broadcast Arm
Digital recorder/audio interface: Sound Devices MixPre-6 ii
Volume controller: ESI MoCo Passive Monitor Controller
Speakers: Yamaha H-Series
Headphones: Audio-Technica ATH-M50x (not shown)
Mic cable: Mogami Gold Studio
Computer: Custom built PC
Monitors: Basic Acer and Asus (dual setup)
Webcam: Logitech c920
Keyboard: Corsair K55 Gaming Keyboard
Mouse: Pictek T7 Gaming Mouse
Smart Lights Control: Ikea TRÅDFRI remote control
Desk: Jarvis Standing Desk
Here's more white space…
April Dunford's "Whiteboard, Windows and Wisdom"
Founder, Ambient Strategy
A clean mix of digital and analog, plenty of natural light, and a comfy chair. It's easy for me to imagine great work happening here. It's powered by a Mac Mini. No laptop, no lights.
April is an author, speaker, and positioning expert. From that chair, she reframes the conversations about her clients.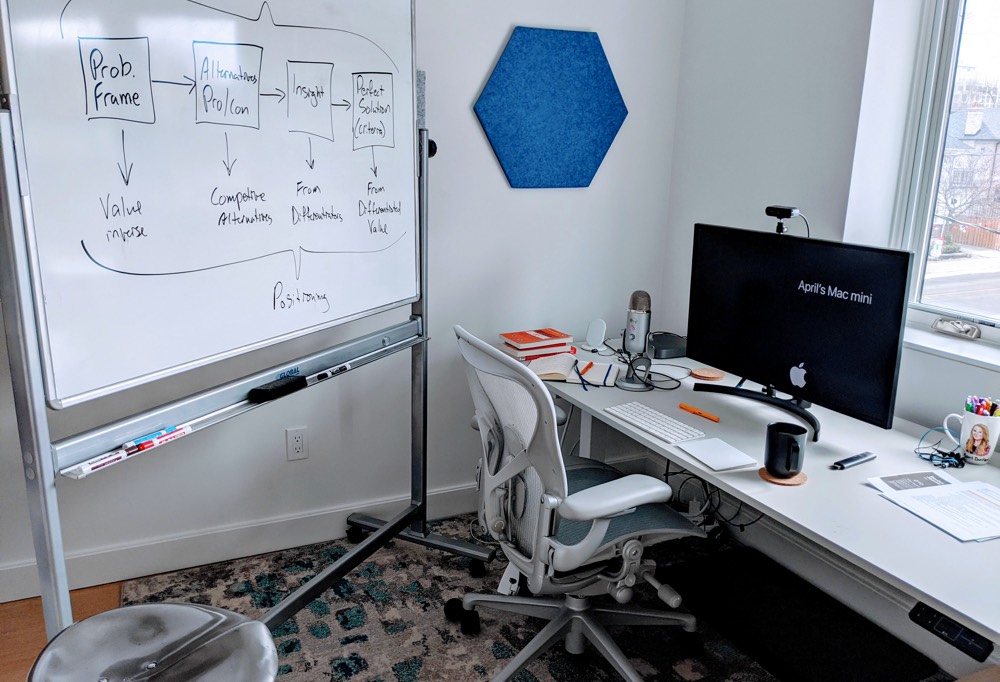 April gives us a mini-tour:
That's a standup desk and I use it standing when I'm teaching a workshop with the stool (foreground)
Look at that high-tech whiteboard setup! The future man! Digital whiteboards just don't have enough real estate for me.
The blue thing on the wall is to damp the echo in my office. I have great natural light with a giant window so I don't use additional lights.
I use a Logitech brio camera and a Yeti microphone, running off a mac mini – pretty simple and it does the job.
Why yes I do I keep my pens in a mug that has my face on it, thanks for noticing
Where can I get one, April?
Julian Juenemann's "The one-click video recording and live stream production setup"
Founder, Measure School
Julian's simple, unscripted style makes Analytics look easy. He's invested a lot of time in building up those skills. He's also invested in his video setup. I always wondered what it looked like.
Here it is.
Julian is using a teleprompter for perfect eye contact. He's also using a switcher, so with one tap, he can switch between setups. This is a complete setup for the pro-YouTuber.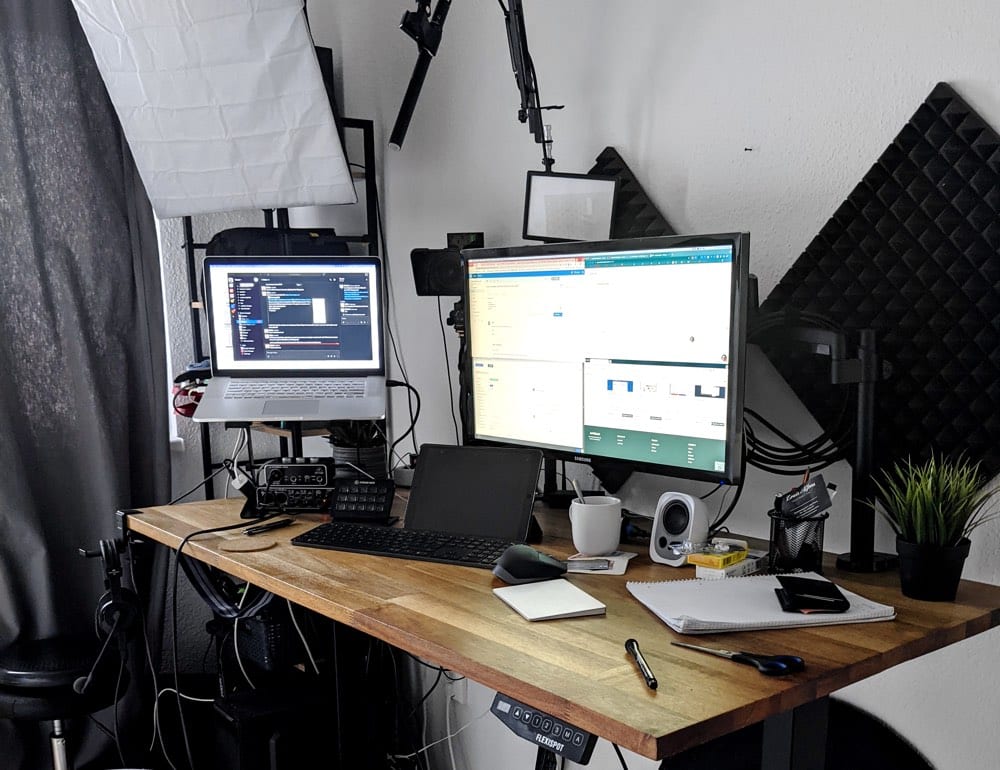 Video
Elgato Stream Deck
Sigma 16mm F1.4 lens
Parrot Teleprompter
Lights
LED Softbox Light
Viltrox LED Panel
Sound
Behringer U-Phoria UM2
Behring U-Phoria UMC202HD
DBX 286 Preamp
Beyerdynamics DT 297 Headset
Sennheiser MKE600
Edifier Mini Speakers
Talia Wolf's "Simplicity with Sunlight"
Founder & Chief Optimizer, GetUplift
We are in Talia's home office. This view is beautiful, overlooking a garden of olive trees.
Talia is a speaker, writer, consultant, and conversion optimization expert. I picture her sitting here, Zen-like, clearing her mind of all distractions …then writing a call to action that triggers the unconscious biases of thousands of visitors.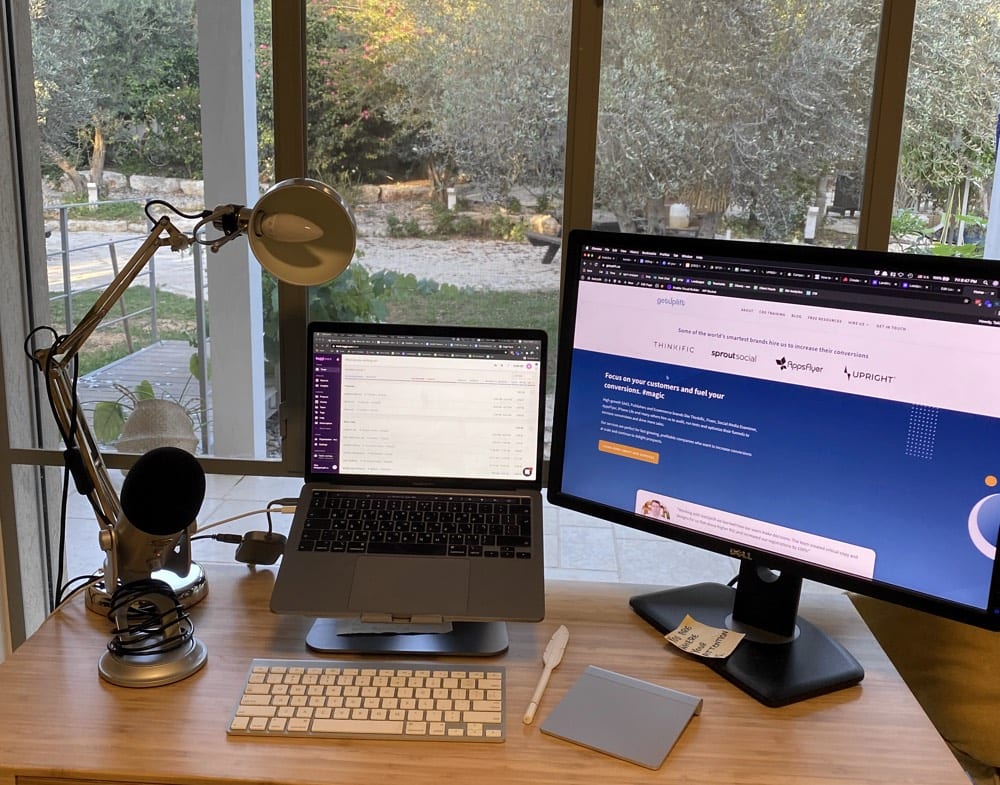 The setup is simple and compact, but with a nice external mic. She does have another office with a lot more gear.
Blue Yeti microphone
Ring light and tripod (not in image)
Rand Fishkin's "ShedToro"
CEO, SparkToro
Rand is building an audience intelligence tool that instantly shows where your prospects spend their time …from inside this tiny house. Webinars and interviews, writing and research, Rand reach millions from that keyboard, that lens.
His setup is almost identical to mine: Sony camera, cam link, and mic.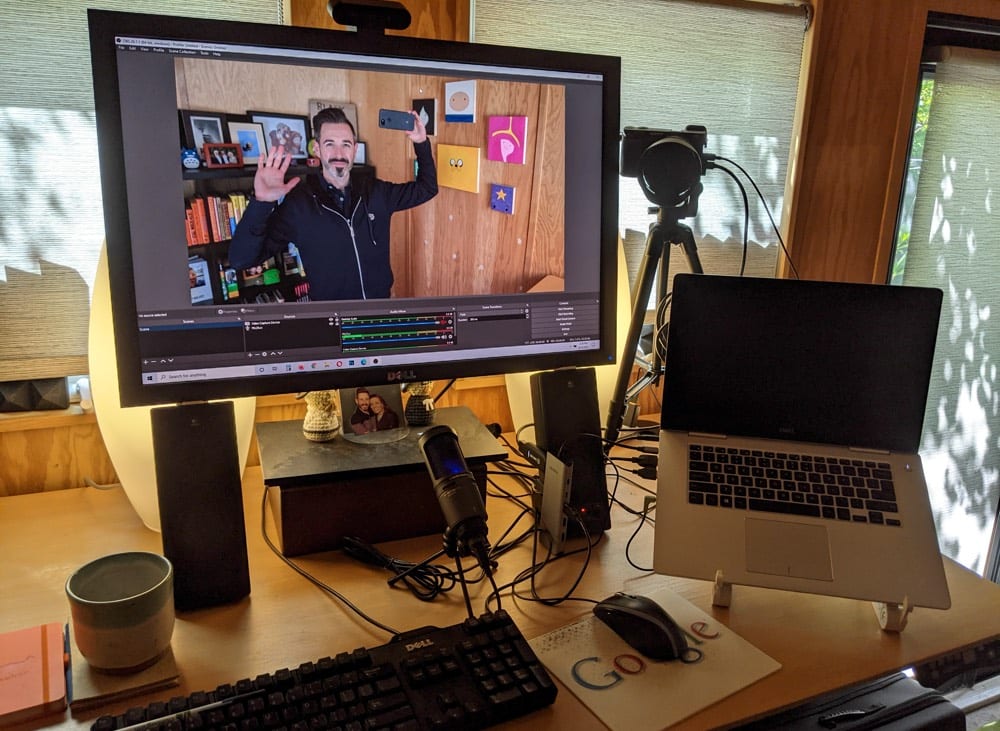 Sony DSLR 6100 with a Sigma 16mm lens
Cam Link 4K to get the input from the camera into video in OBS
Audio-Technica 2020USB Mic
Nadya Khoja's "Tornado of Chaotic Brilliance"
Chief Growth Officer, Venngage
Don't judge.
Nadya doesn't have a lot of gear, but it's enough. She dominates her category through strategic focus and creative talent. Thanks for sharing, Nadya.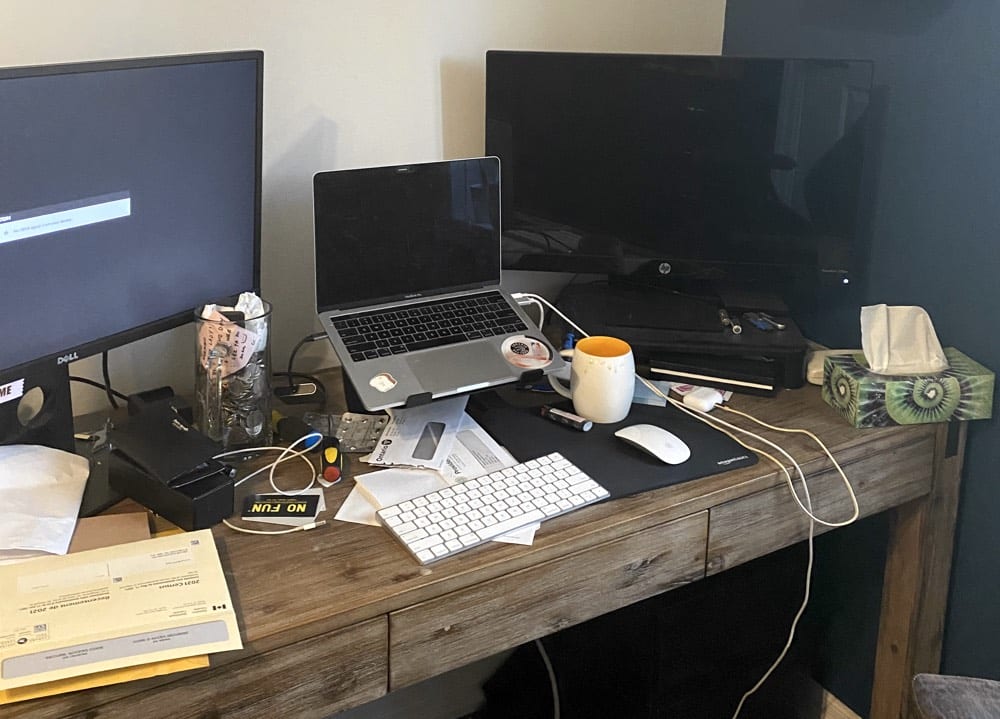 Jay Baer's "Maximum output, minimal motion"
Founder, Convince & Convert
Look closely. It might seem simple, but this is a serious studio. Three cameras, two mics, big lights. Jay has made some upgrades during quarantine.
But he would also be the first to tell you that the gear isn't what matters most. His words: "It's the wizard, not the wand."
2 softbox studio lights
32 inch curved second monitor
Collapsible milk crate
Rode Podcaster mic and stand (mic 1)
Canon M50 camera (camera 1) with magic arm clamp
Hard to see, but Panasonic HD video camera (camera 2)
Blackmagic Web Presenter
Aukey 4k Webcam (camera 3)
Motu M2 Phantom Audio amplifier
Rode Phantom Audio lavallier (mic 2)
Mini whiteboard
Don't Panic Management coffee mug
Black glasses (eyeglasses 2)
Blackout curtain with remote control
Logitech wireless slide advancer
Remote control for heating/cooling
Current pile of books to read/review
Eyeglasses cleaner/screen wiper from my man David Horsager
Bear pen holder from Switzerland that my grandparents gave me when I was a kid
Marie Poulin's "High production quality jungle" or "Upgraded, optimized, organic"
Co-Founder and Chief Strategist at Oki Doki
This is a masterpiece. Marie is a pro YouTuber. We can learn a lot from the decisions she's made here.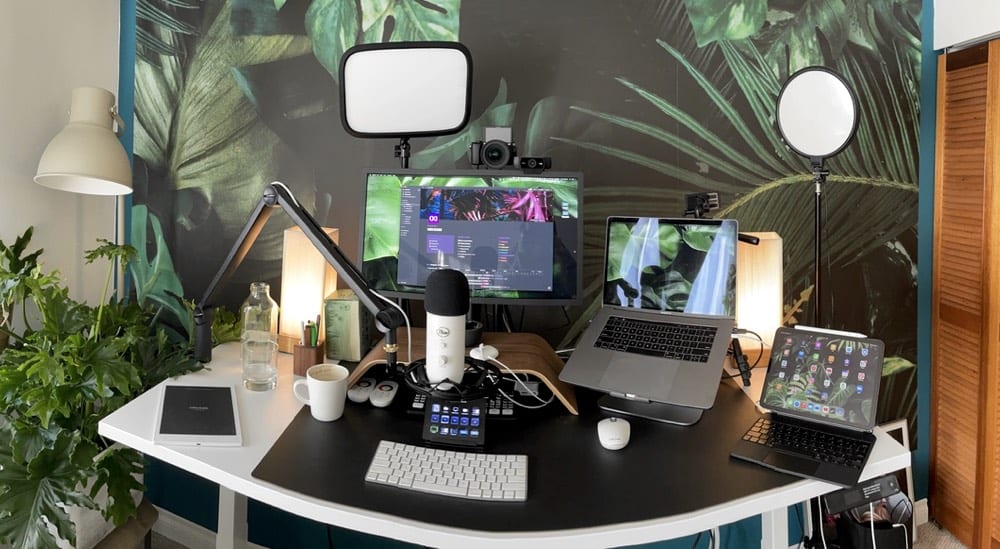 Sony a5100
Cam Link 4k
Blue Yeti Mic
Elgato Key Light
Elgato Stream Deck
Jarvis Standing Desk
Not surprisingly, when viewers see the quality of her videos, they ask about her setup. She's posted all of the details here. Helpfully, she also lists the starter versions of each item. Baby steps, right?
Jeff Julian's "The Rig"
Jeff likes to spread his work out over 41,472,000 pixels.
"My hardware when in use will increase the temperature in the room by 10 degrees. I have fans all over the place directing hot air out and cold air in."
Jeff is an expert marketer and software engineer. He's also good at building hardware, such as micro-device controllers. What's next for Jeff? Farming. Yup! He's building a farm. Probably, he'll control it from one of these screens.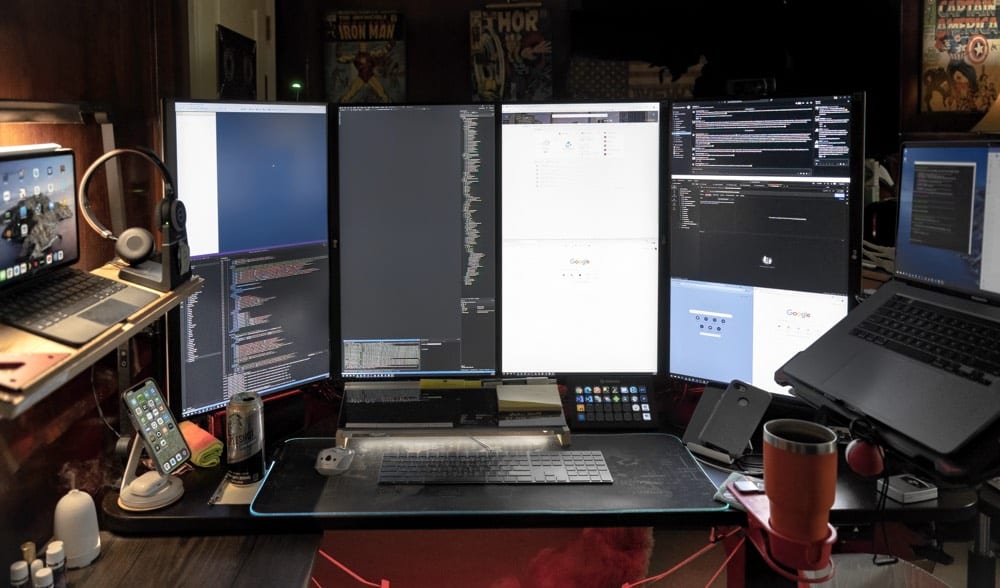 Four 27inch 4K monitors in Landscape orientation
MacBook Pro 16 with Intel i9, 8GB Graphics, and 64GB of RAM
Stream Deck (small icons/buttons) for quick commands, scripts, and applications
Quartet Desktop Glass Black Dry-Erase Board
RGB Lighting behind monitors, under the desk, and devices
Jabra Bluetooth Headset
iPad for Communications/Video conferencing
Oil Diffuser
Large Hot Teacup
Different Mobile phones/devices for testing
Christopher Penn's "Tony Stark in his early days"
Co-Founder and Chief Data Scientist, TrustInsights.ai
Who needs multiple monitors? Just get the drive-in theater-sized screen and partition it!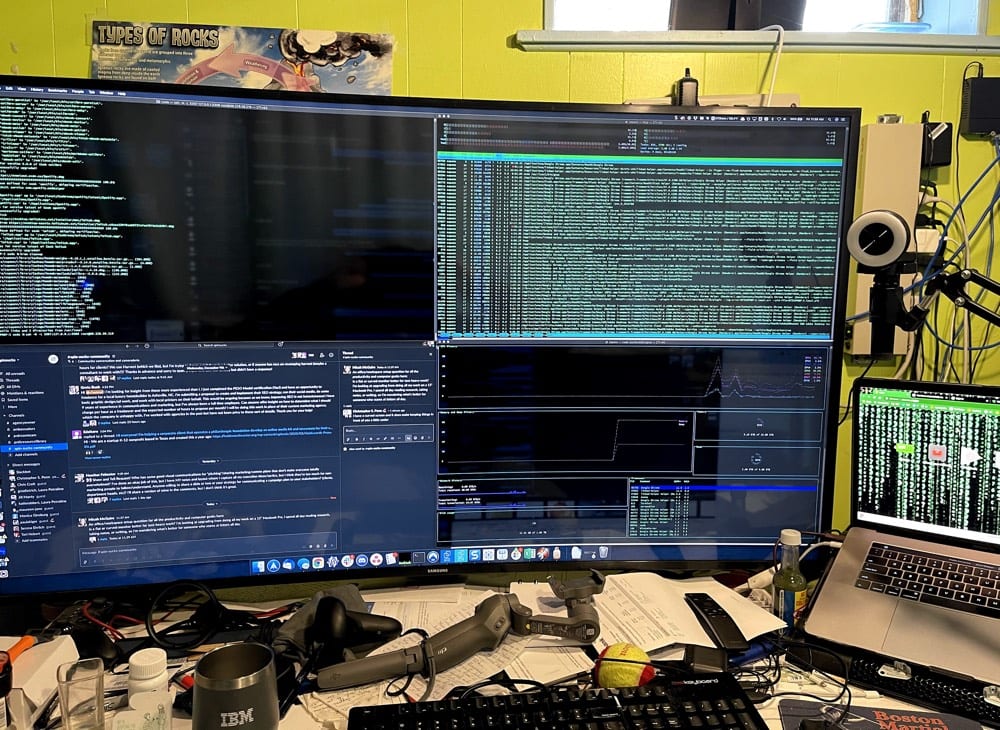 Chris has some unusual items on his list of office equipment:
65″ 4K TV partitioned into 4 virtual workspaces
2 boom arms (1 mic, 1 camera …what camera is that, Chris?)
DasKeyboard Mac Pro mechanical keyboard
DJI Osmo gimbal
70# compound bow and armor-piercing arrows
Throwing knives
El Yucateco hot sauce
Joe Cox's "Pop-Culture Powered DIY Stream Studio"
Founder & Creator, The Pop-Marketer
The desk of a high-energy podcaster. Joe hosts The Pop-Marketing Podcast.
This is another non-laptop workstation, but Joe keeps his projects on a pocket-sized external drive. "It's super tiny, super-fast and can quickly move projects around once travel becomes a thing again"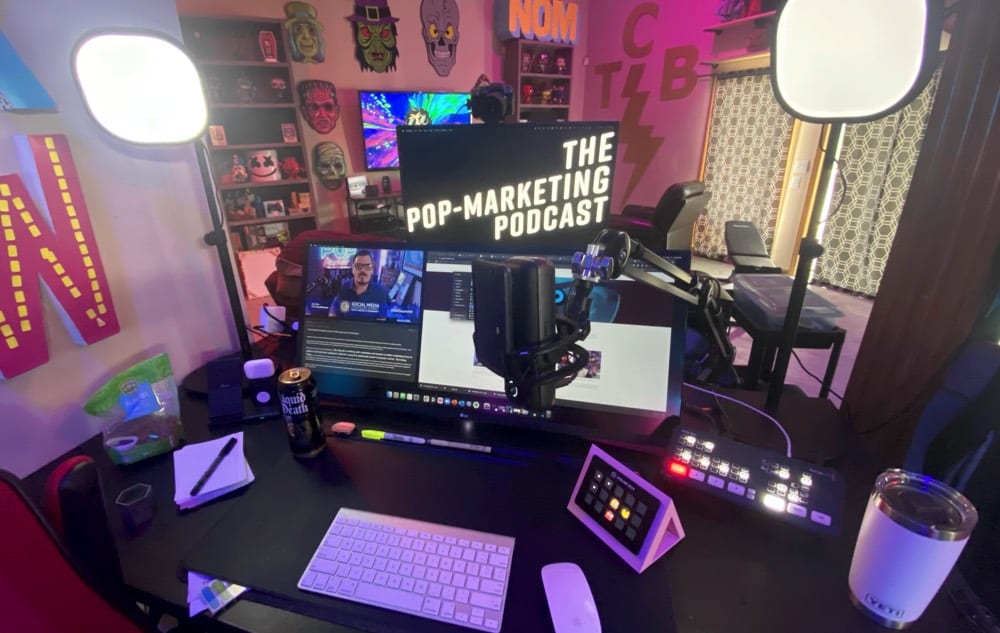 Lumix G7 mirrorless camera, Sigma 16mm f/1.4 lens ("this very affordable digital cam puts all webcams to shame")
Imac Mini M1
2 TB SanDisk external hard drive
Monitor 1: LG 34WL850-W 34 inch 21:9 UltraWide QHD Monitor
Monitor 2: Sceptre 27 inch HD Curved Monitor (very handy for space, eye contact on Zoom & prompter)
Mic: Elgato Wave:3 – USB Condenser Microphone and Digital Mixer (mic is good, but the mixer software it comes with is the game changer when streaming)
Elgato Stream Deck
Blackmagic Design ATEM Mini HDMI Live Switcher (great for multi-cam streaming)
2x Elgato Key Light Air (wireless control from the computer is handy)
Liquid Death Sparkling Water (Murder your thirst)
Souther Grove Wasabi Soy Almonds (protein snacks!)
Katie Martell's "Cave of Wonders"
Katie is a marketer, live streamer, host, speaker, and filmmaker. (Book her here!)
Here's where the magic happens. From this home studio, she streams using Socialize, does interviews, hosts shows, and films news appearances.
"I've been doing a lot of live streaming on social channels during the pandemic as many turned to sites like LinkedIn and Twitter to stay connected with each other and new ideas. One such infotainment show is Experience TV with Oracle Customer Experience."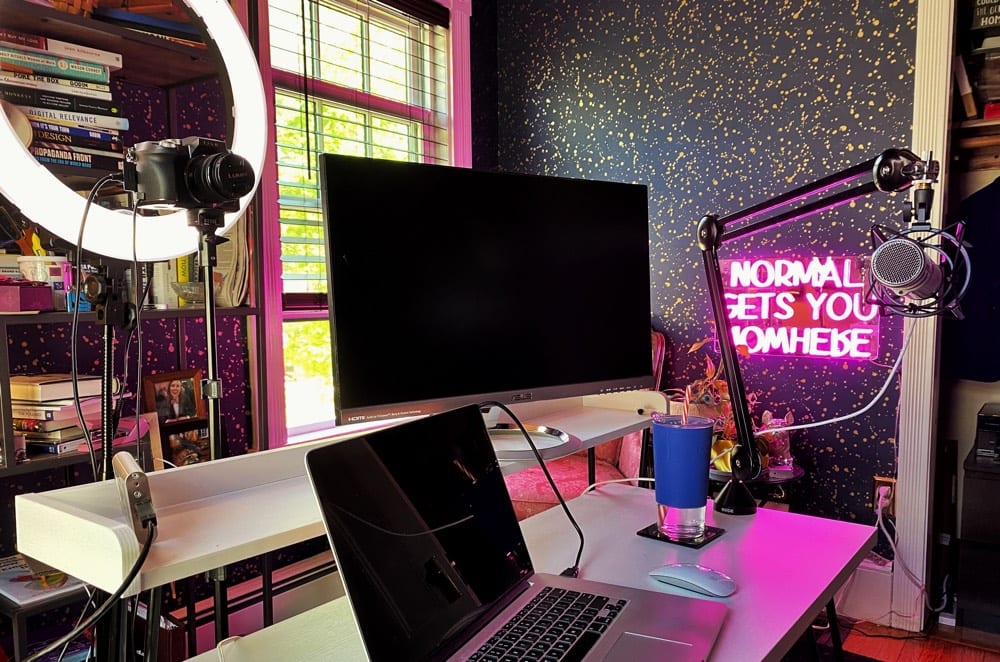 Rode podcaster mic
Panasonic LUMIX G7 camera
HD2USB3 (this HDMI to USB 3.0 converter is the same as a Cam Link, I think)
Neewer Ring Light Kit.
Peel-and-stick wallpaper. "All the drama without the commitment"
Benyamin Elias's "Marketing in the key of C"
Director of Growth Marketing, ActiveCampaign
This is a relatively new setup since Benyamin recently moved to Portland, Maine. He has natural light, a nice microphone …and a piano. Yes, Benyamin plays requests in meetings. You win, Benyamin!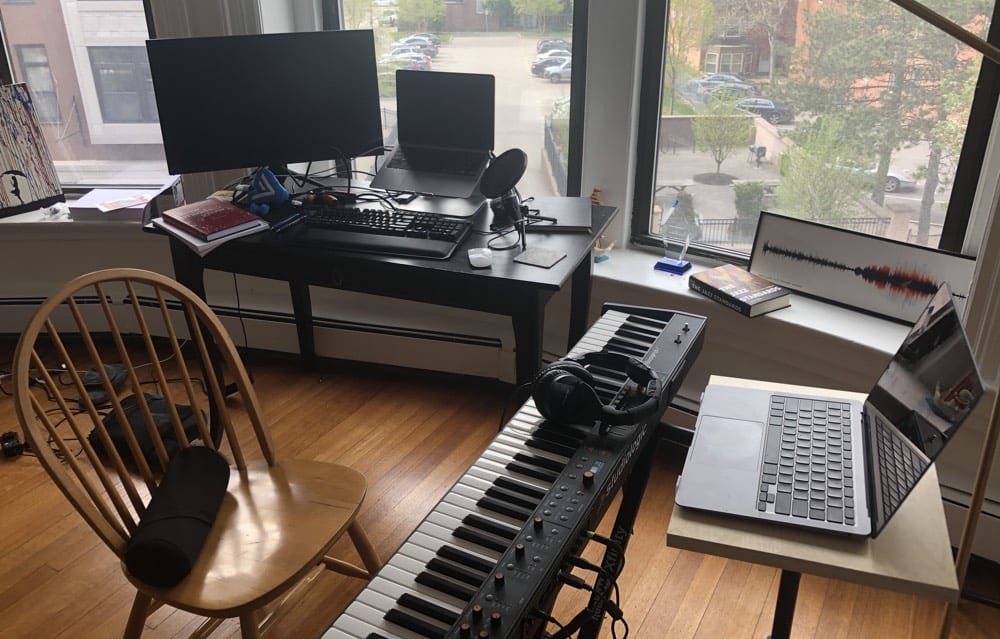 Pixio 32 monitor
Apogee MiC 96k (microphone) + some random pop filter
Sennheiser HD 280 PRO headphones
Moleskin notebook
Zyllion shiatsu back and neck massager
Kootek 50-150lbs hand strengthener
Boya DM200 iPhone microphone
Razr Blackwidow Elite keyboard
Tripod standing desk from Intension Design
Studiologic Numa Compact 2x (piano!!)
Stephanie Baiocchi's "Colorful community-building command center"
Director of Community and Events, IMPACT+
A lot of people send me emails. Stephanie sends me short personal videos. It's refreshing. I've seen the background many times. But what does life look like from her point of view?
Clean, simple, and colorful. It's from this chair that Stephanie produces the high-touch formats and builds all the personal connections.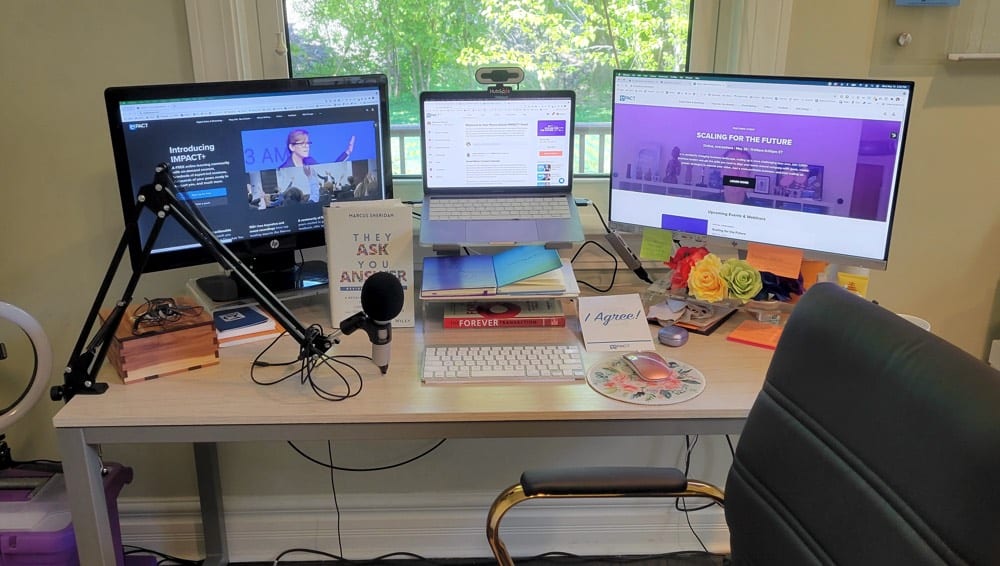 Gear for virtual/video stuff when I'm not using a DSLR:
ATR 2100 mic
1080p webcam with light
Ring Light and phone clip ("I really only use this at night or when it's super cloudy and dark outside")
Backdrop: UrcTepics 5x7ft Pro Microfiber Abstract Dark Grey
Ember mug
Many notebooks, post-it notes, and whiteboard with dry erase markers.
Douglas Burdett's "Podcast Production War Room"
Host and producer, The Marketing Book Podcast
After 16 years of an office with a lease, Douglas finally gave it up and took his team remote. "Nobody wanted to come into the office for some strange reason…"
It's from right here that he records one of the top 10 marketing podcasts, posted every Friday for the last 331 weeks.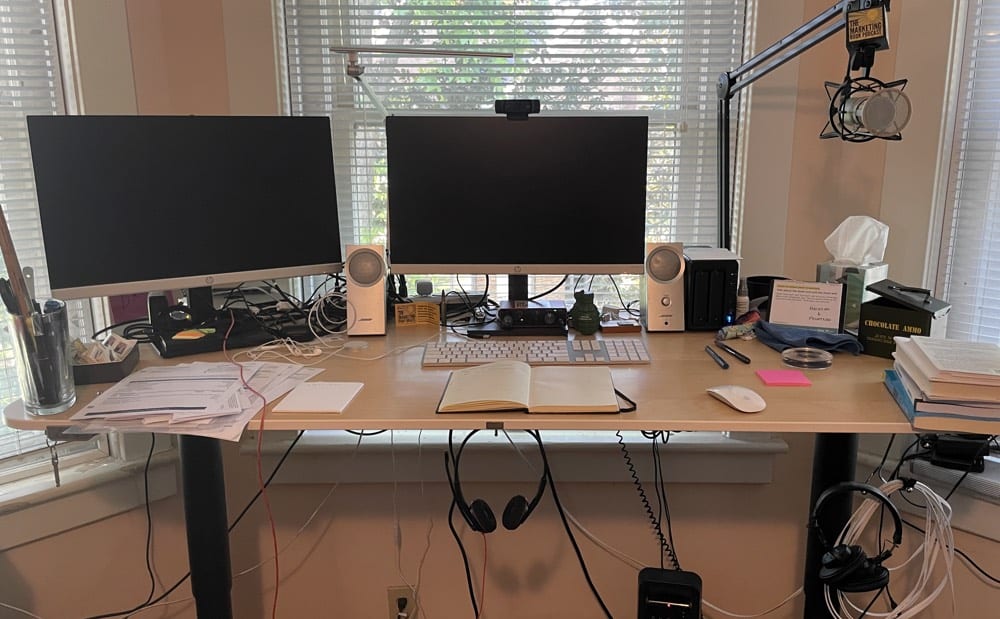 Ikea standing desk
Mac Mini (w/new M1 chip)
2 HP 24 mh monitors
Phive CL-1 LED Architect Desk Lamp
Logitech HD 1080p camera
Bose speakers
Heil PR40 microphone (for podcast interviews)
Sony MDR7506 Headphone (for podcast interviews)
Synology NAS DiskStation DS916 (for audio and video files)
Focusrite SCARLETT SOLO 3rd Gen Audio Interface
Plantronics – Blackwire 3220 – Headset (for Zoom calls)
Sarah Cooper's "Tricks to Appear Smart in Meetings" 2021 Day-to-Day Calendar
Books for upcoming author interviews
Amanda Milligan's "Simple, Affordable Content Creation Station"
Marketing Director, Fractl
Here's another non-nonsense, no-laptop home setup and maybe the smallest desk in the bunch. Amanda combines research, visuals, influencer outreach, social media, and SEO …all from this little space.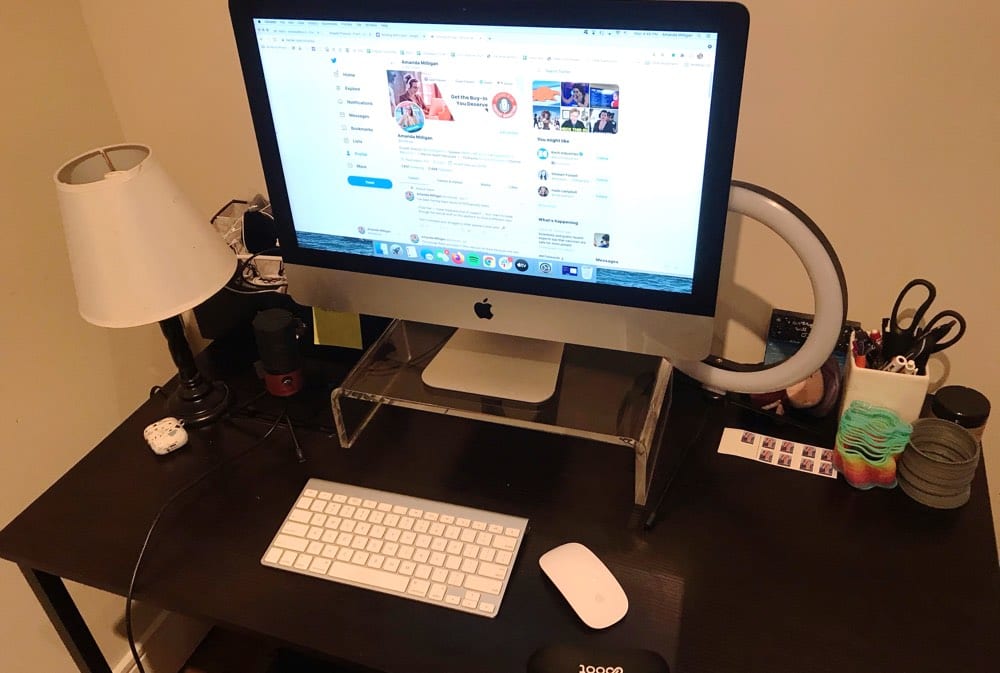 Light and mic. Easy peasy.
Finite USB Podcast Condenser Microphone
10.2" ring light.
Slinky ("My version of fidget spinners")
Maria Ganta's "Lights, great sound and a lot of positive vibes!"
Online marketing expert & podcaster, Socialinsider
Maybe you don't need an expensive new camera. Maybe you have a great camera in your pocket. Here's how to turn your phone into a studio. Just add mics and lights.
Maria wins for most portable. Except for the light, all of this would fit easily in my bookbag.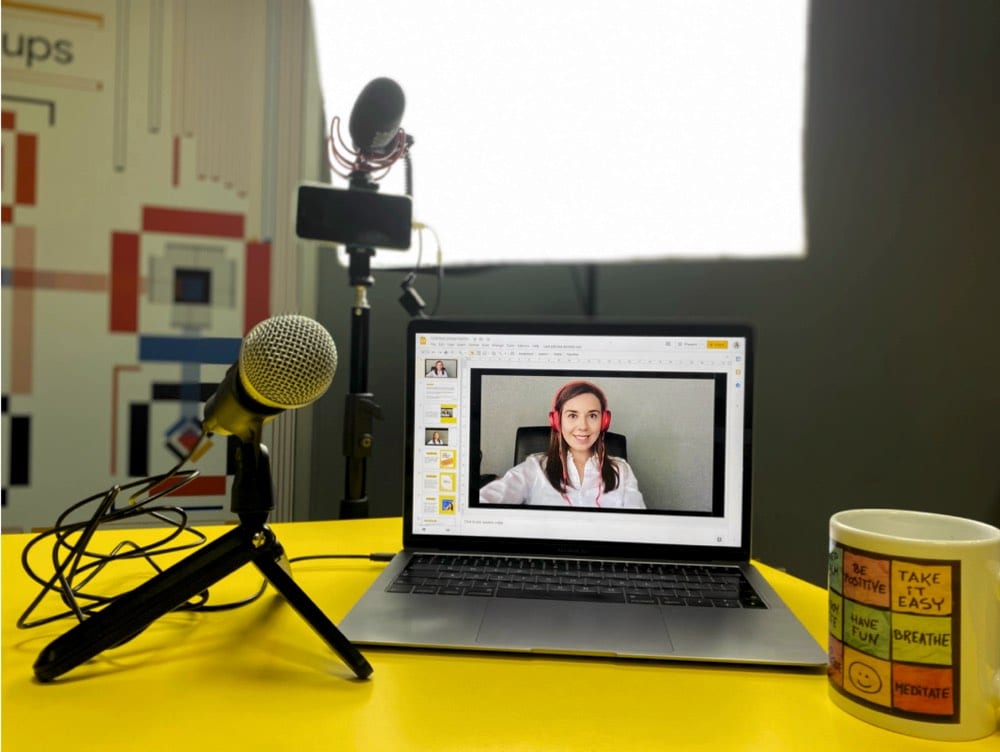 iPhone 11
Audio-Technica – ATR2100x-USB mic
Rode VideoMic Rycote mic
Two Softbox lights
Mug with positive messages 😄
Andy Crestodina's "Frontier Fort"
Someone has to check the mail.
I came in every day to this big empty office. I usually didn't turn on the lights or heat. Just sat in this little room in front of a space heater, cranking away on calls and content.
After upgrading the camera, I doubled down on video content for our YouTube channel (what? You haven't subscribed yet??). I also did one zillion Zoom calls (I average 6-8 per day).
Here's what I'm working with:
Sony Alpha 6000 camera ($600)
Engato cam link ($50)
Ring light ($15)
Rode-NT mic ($170)
Rode Boom ($100)
Acoustic panels x3 ($60 each)
Picture of Crystal, my wife, holding our baby boy (priceless)
Somehow, that was more personal than I expected…
HUGE THANKS to each of the contributors for letting us into their homes and offices. The original idea was to check out their cameras and mics, but clearly, they shared much more. They shared a view into their personal spaces. Their homes.
There's a fine line between working at home and living at work.
We spend a lot of time in these places. We hope that this inside look into these corners of the marketing world has given you some ideas for your own space.
ProTip: Think of a format for content that gives you a reason to reach out to old friends, new potential friends, the people you admire. Collaborate on something fun, easy, and creative. You'll all get a bit of value, even before you press publish.
Bonus! The ultimate video desk setup
Dare to dream, right?
https://youtube.com/watch?v=9hWvN01bEPY%3Fenablejsapi%3D1%26origin%3Dhttps%253A%252F%252Fwww.orbitmedia.com