You can catch a lot of fish with a net …but most of them you'll throwback.
You'll catch fewer fish with a spear …but every one of them is a keeper.
Content marketing attracts a large audience, mostly through search engines, social media, and email marketing. But only a small percentage of this audience will match your ideal client profile.
https://youtube.com/watch?v=X_JjdnwXWgU%3Frel%3D0%2522%26enablejsapi%3D1%26origin%3Dhttps%253A%252F%252Fwww.orbitmedia.com
Account-based marketing begins with identifying your ideal clients, then targeting this small, specific group directly. So 100% of the audience is relevant. It's automatic sales-marketing alignment. And it engages prospects earlier in their process before they go to Google.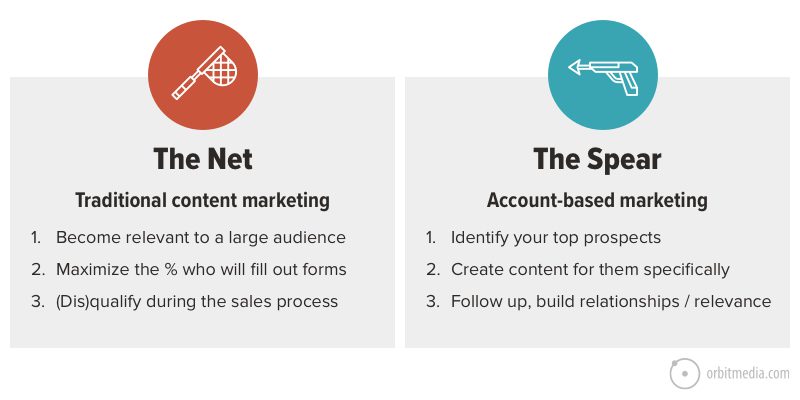 But you still need something to attract these prospects somehow. You need a hook. That's where content marketing comes back in.
The best ABM strategies have a content component. When you combine ABM with content marketing, you're doing account-based content marketing (ABCM or ABC Marketing).
Account-based content marketing doesn't require a large budget, unlike a lot of tech-driven ABM programs. But it does require some content marketing muscles. Here are the key elements of the strategy we'll be outlining here:
Ability to produce original research
Ability to create video, webinars and long-form guides
A strong presence on LinkedIn
We still need to start by defining our ideal client profile (ICP), then identifying prospects and building a list of key accounts. Then we'll target that list using outreach and ads, inviting them to a webinar. Then we'll follow up in a high-touch format with personalized offers.
Here's one example of an account-based content marketing program with our step-by-step outline of actions. In the end, we'll show you the total hours and dollars invested and the return on that investment.
Step One: Identify Top Prospects
First, we'll define our ideal client profile and build a list of these top prospects.
We plan to target marketing decision-makers (managers, directors, and VPs) in specific industries. We'll start with manufacturing companies and then expand later. We know this audience well and have basic buyer personas in place.
The list came from three sources:
Research tools/software
Current database
Top-of-mind dream clients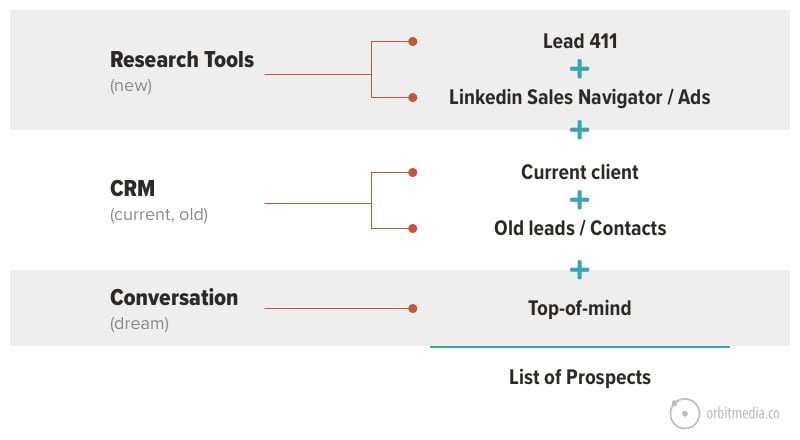 We used LinkedIn Sales Navigator and a tool called Lead411 to do searches and refine a list. Within these tools, "list building" is just a matter of doing increasingly refined searches. The main criteria for us were industry, company size, contact seniority, and job function.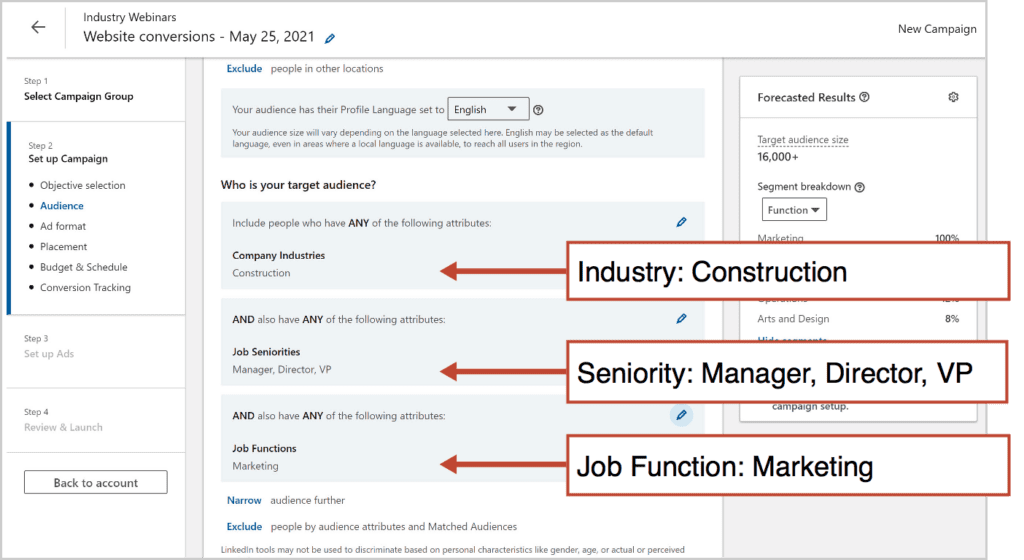 By going through our own CRM, we found more people to add. These were cold leads, past clients, event attendees, etc. Anyone we've ever touched that met the criteria.
And finally, we mixed in some dream clients. Who would we love to work with?
Step Two: Develop the Content
We need a hook. Something highly relevant, which may be easier than you'd think.
---
| | |
| --- | --- |
| | Carmen Hill, Principal Strategist, Chill Content"One of the biggest content marketing challenges is creating content that is truly relevant to your target audience. Since account-based marketing focuses on a finite, clearly defined audience, it's possible to dive deeply into your customer and competitive data and, based on those insights, develop hyper-relevant, resonant content that connects your value proposition to real customer value."  |
---
Our account-based content marketing program needs a topic and a format, just like you'd find in any content marketing strategy. A typical blog post won't do. We're going to use the most engaging format and the most compelling content.
Format: Webinar
What format will bring us closest to this audience?
We invited this list of ideal prospects to attend a webinar. We choose this format for a few reasons:
Live video is compelling
They'll see our faces and hear our voices, building a stronger personal connection and trust. The only content format more compelling is the live event.
Events drive urgency
It happens on a certain date, so you have to sign up in time or you'll miss it. That deadline will give us a stronger call to action.
Topic: Research and analysis of top competitors
What kind of content will get their attention?
We decided to produce a little bit of original research. Research is inherently differentiated, giving it big advantages over other topics. It is the best ABM content.
Research builds credibility
It's new data. It feels objective. It shows rigor and methodical thinking. It's automatically different from most of the content they'll see on a typical day.
It's specific to their industry
A custom piece of research can be targeted for their industry. When they see the call to action or hear the invitation, it will feel much more relevant than the other offers they'll see on a typical day.
Our goal at Orbit is to create demand for our web development services. So the research topic is obvious: an analysis of the websites of the top 100 companies in their industry. We found a list of top websites, then asked a virtual assistant to review those 100 websites and record which sites had which UX features.
It all came together on a simple spreadsheet.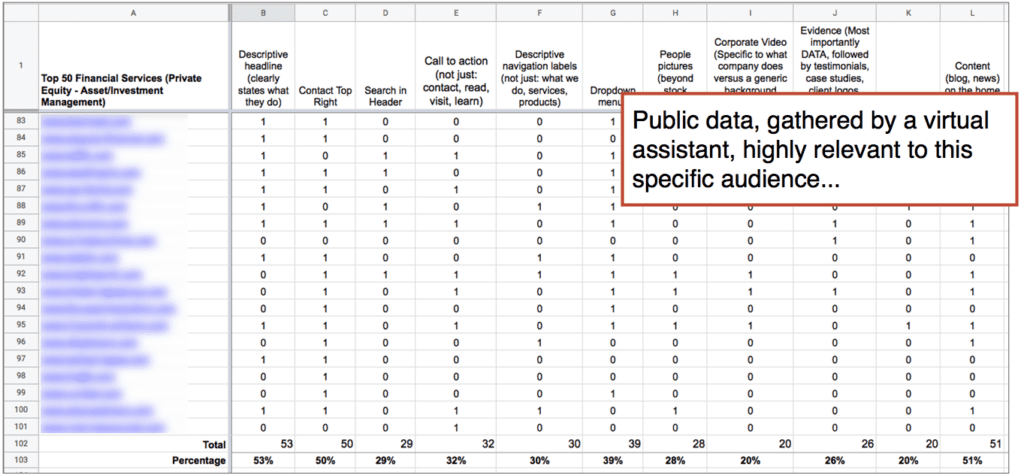 This is tailored content, designed specifically for this program. It will make a strong headline and call to action: What are the top 100 firms doing on their websites?
This data is easy to turn into a presentation for a webinar. To make the deck, we turn the data into visuals (simple charts), show examples (good and bad) then discuss best practices (based on other data and our own experience).
Here's the breakdown of slides and time. More on this in step six below.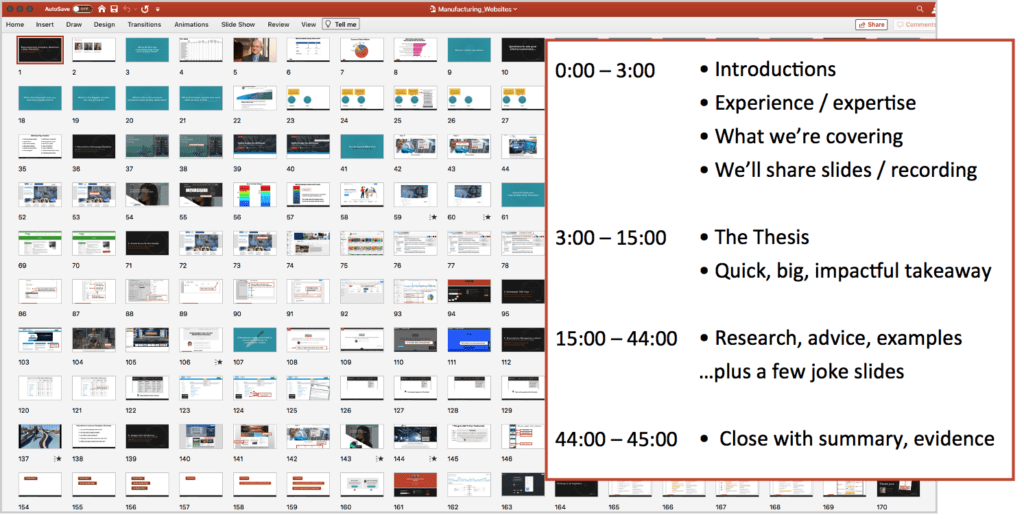 What might work for you?
The key is to find a research topic that can be created efficiently but still feels both new and practical. Ideally, it's based on publicly available data. Surveys are a lot more work. Do some brainstorming to find a research topic that works for your audience and your account-based content marketing program.
Step Three: The Promotion Video
We need to upgrade the promotion, not just the content itself. The better the invitation, the more likely our ideal prospects will register. Any one of them might be our next client.
A video message is 10x the effort, but 100x the results. It's just far more compelling than text. That has been our experience. So we'll create a social media-style promotional video with captions. It's a 1-minute commercial for our webinar.
We highly recommend upgrading the camera, mic, and lights of your space, both for promo videos and the upcoming webinar. Here's what my desk looks like. And here's a gallery of desk pictures of amazing marketers.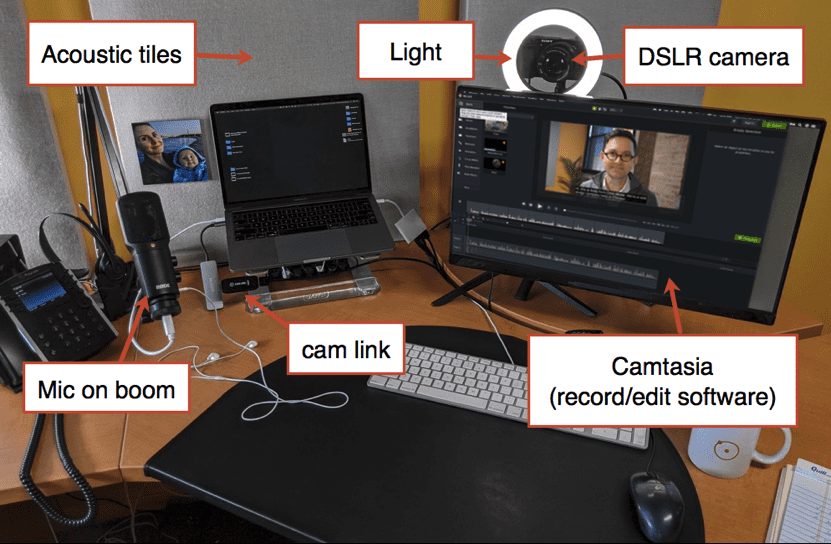 They're brief. Here's how the promo video breaks down, second-by-second.
0:00 Smile!
0:02 Introduce yourself
0:05 Tell the viewer what you're doing here
0:45 Summarize the article
0:55 Your CTA: Suggest that they click.
1:00 Thanks for watching!
And here's what it looks like once done:https://player.vimeo.com/video/580054631?badge=0&autopause=0&player_id=0&app_id=58479
To get the maximum value for this effort, we'll use this video everywhere. Here's where (and why).
Social media outreach messages (improve the click through rate)
Sponsored content ads (improve the click through rate)
Landing page (improve the conversion rate for registrations)
Next, let's see how it looks in each context…
Step Four: Ads and Outreach
Now we need to connect with this audience and invite them to attend. Here's how we'll get our video invitation in front of these people.
LinkedIn Ads
We already built the audience in step one. Now we'll set up the campaign in the LinkedIn Campaign Manager. Our budget is around $1000. That should be enough to pull in some highly qualified registrants.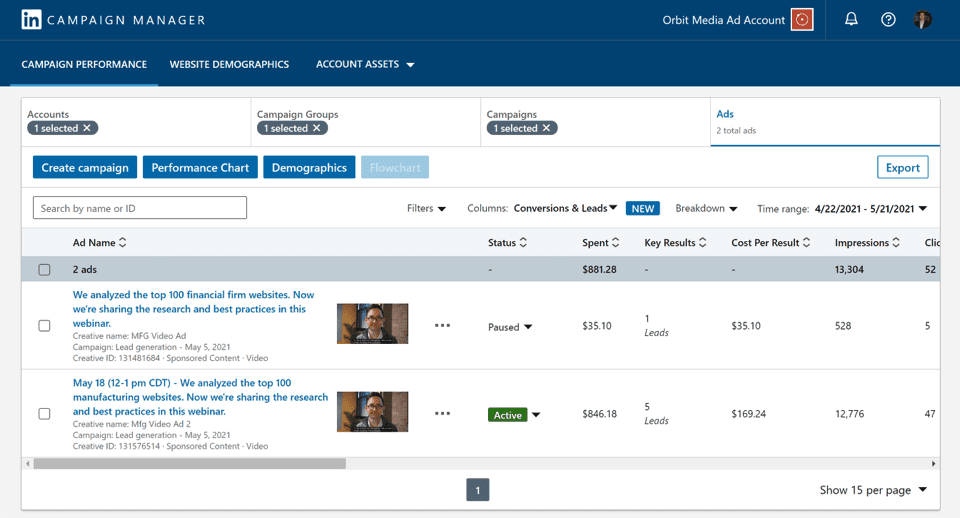 We're using sponsored content video ads, which puts our video invite into the social streams of our target account members. Here's what it looks like.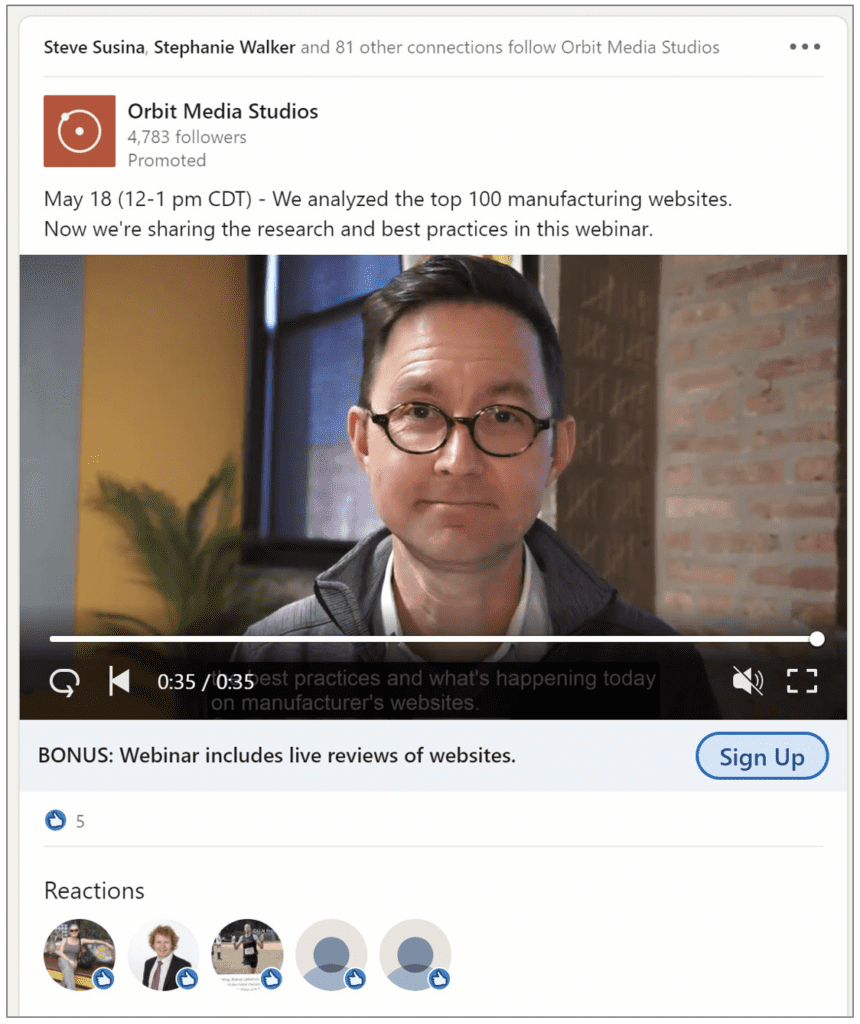 Direct message outreach
We also took the time to send personalized direct messages to the first-degree connections that appeared on the list. These were short, simple invitations with a link to the landing page. We used a tool to help.
Use this ABM tactic cautiously. Never send a cold pitch to a new LinkedIn connection. It's neither effective nor necessary. Please do not spam people.
Around 50 of these messages were sent. Some of those messages led to conversations. A few turned into registrations.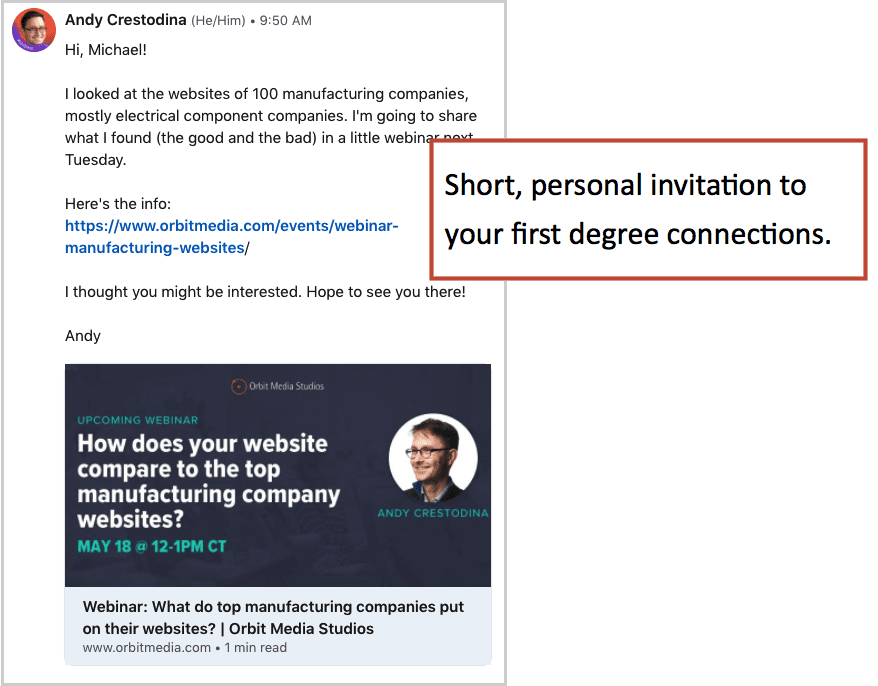 This works best if you have some connections with these people already. If you don't, take a few minutes to start engaging with them early. Share, comment, and like their content. Then send a connection request. Next time you do a little outreach, it will be more effective.
Personal emails
If they're in our CRM database, we have their email address. These people got personal email invitations. Below, you'll see that they get more personal emails from us if they continue to engage.
Step Five: The Landing Page
The next link in the conversion chain is the landing page. If the ads and outreach worked, they clicked and landed here. This is our campaign landing page.
We're talking about the first definition of landing pages here. A focused page: one traffic source, one desired action.
---
land·ing page
/ˈlandiNG/ /pāj/
noun
A marketing web page with one specific traffic source and one specific goal (i.e. sign up or register). Such pages are often successful because of their narrow focus.
"The conversion rate of this landing page is dope."
Any webpage that is the first page in a website visit
---
Here's what ours looked like: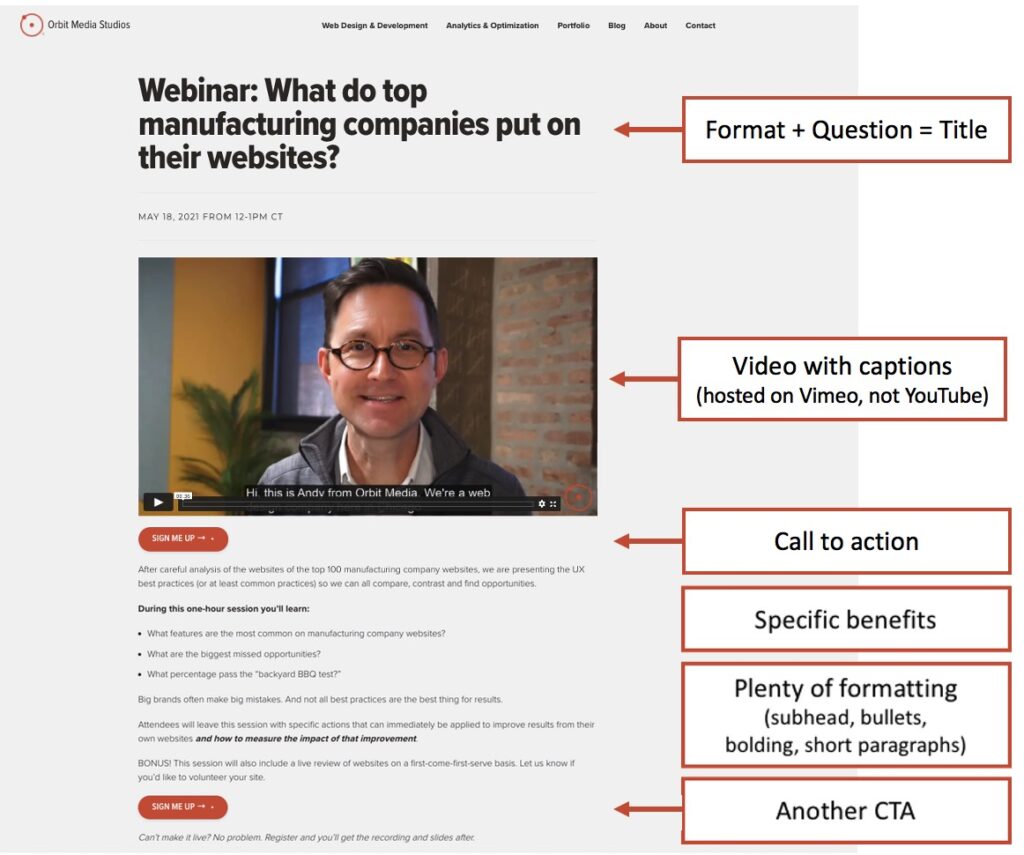 This page uses a lot of landing page (and digital marketing) best practices…
Compelling headline (question format)
The video
Specific benefits for registrants
Lots of formatting (subheads, bullets, bolding, etc.)
Multiple calls to action
Looking at it now, I can think of a few things we could have added…
Testimonial or other social proof
Indication of urgency (sign up before your competitors do)
As people register, we send personal emails to each. This helps to encourage more 1:1 interaction and relationship building.
What about Analytics?
Did we track the traffic and conversion rates? Yes, we can track the clicks to this page using links with campaign tracking code, created with a URL builder, but probably that data isn't useful.
It's just not that important.
Why? Because account-based marketing isn't about quantity (how many), it's about quality (who). Since 100% of the viewers of our CTA fit our ideal customer profile, every signup is a potential client. Low numbers are totally fine.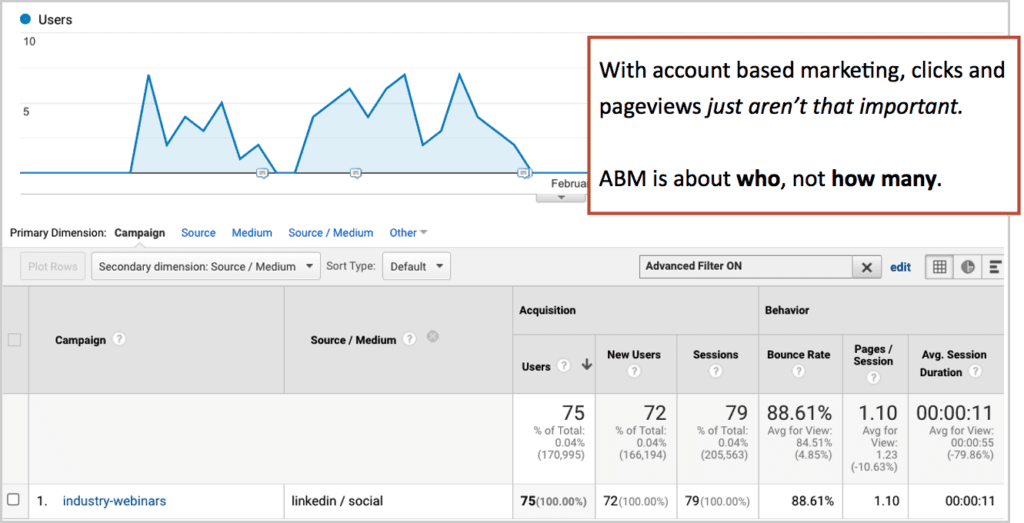 I love data. You know I do. But that's not what this is about. This isn't a numbers game. It's about getting the right content in front of the right person at the right time.
Step Six: The Webinar
The big day. The live event breaks down into two parts.
The presentation (45 minutes)
Everyone involved in the outreach and follow-up care on the webinar with cameras on. This makes us real to attendees who have only interacted through messages and emails. It also puts a face with the name for all follow-up communication. This is also why starting with friendly, detailed introductions is so important.
The main part of the presentation is a review of the research, sharing examples and discussing best practices. It's all custom-created specifically for this audience. They love it.
Like any content marketing program, it should be actionable and not sales. Many of the recommendations will be things the attendees can do themselves, without hiring you. That's good.https://player.vimeo.com/video/552474899?badge=0&autopause=0&player_id=0&app_id=58479
Make sure it's non-boring. Add a few joke slides or short videos. This is especially important in the middle of the deck when energy starts to lag. The serial position effect shows that the viewer's attention and retention are high at the beginning and end, but low in the middle.
The interactive portion (15 minutes)
This is where the magic happens. It is the most important part of the webinar and your best opportunity to show off your expertise.
Questions and answers
Take notes on what questions were asked and by whom
Optional: Invite a panelist, possibly a relevant client you've worked with.
Live reviews
If you can, go beyond a typical Q&A. Do something that provides real value to volunteers in real-time. This kind of live consulting is the ultimate in personalized content. Yes, it's a live event so it has to be based on something non-confidential, publicly viewable, or shared with you.
For us, this is a real-time website review. You can see examples in the last 15 minutes of the video above.
Real-time reviews of things submitted by attendees
Create a bit of FOMO (fear of missing out) with the people who didn't get any live consulting advice
Promise more value in the follow-up
Time will run out. If you provided a lot of value, they'll naturally want more. Remind them that more value is coming their way.
"Send us your questions. We will answer every question and request made by any of you"
"Schedule a time to chat if you were squeamish about volunteering but would still like us to review something of yours"
"We will follow up with the recording and slides of course!"
Step Seven: The Follow-Up
Good follow-up will make the entire program much more effective.
Weak follow-up and you'll just have to hope that you were memorable.
Because the group is small and highly qualified, we can give lots of love and attention to each attendee.
Unlike a typical webinar follow-up (bulk email with a link to the recording and slides), the follow-up from the account-based content marketing webinar is highly personalized. ABM success is all about the follow-up.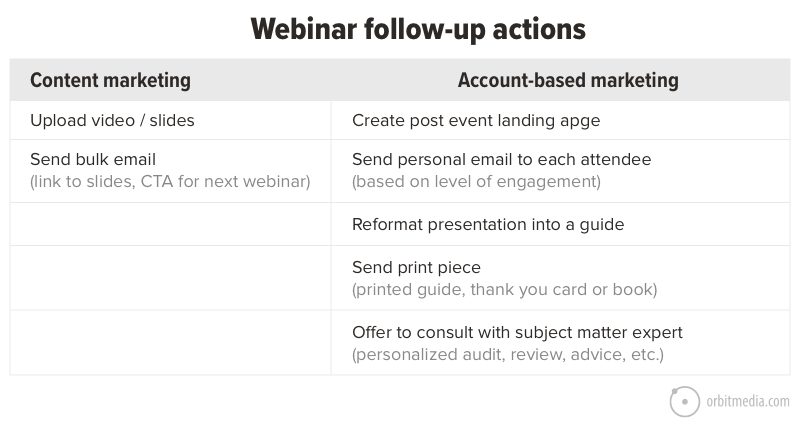 ---
| | |
| --- | --- |
| | Sujan Patel, Co-Founder, Mailshake"Personalizing your follow-up emails after a webinar doesn't have to be manual. And it can be more than just dynamically inserting the person's name and company. Do you know how Netflix and other streaming services customize the images they show you based on what they know you like? You can do the same thing in your follow-up emails. Let's say you conduct a poll during the webinar that has four answers. You can include a different image in the email depending on which answer the person provided. You can even dynamically insert different URLs with different content depending on their interests."  |
---
Flip the webinar landing page into post-event mode
Give them a place to land on your site. But there is no need to make a new URL. Just recycle the webinar signup page.
Replace the promotional video with the webinar recording. Change the calls to action from "Register" to "Download the slides" "Get the PDF guide" or "Subscribe for more insights."
If you have a chatbot, this would be a great page for a new playbook. "Were you able to attend this event? …No? Would you like to get a turbo version of it on a quick 1×1 call?"
Check out one of our event pages in post-webinar mode here.
Create a PDF guide from the slides
Reformatting the content into a guide gives them a scannable version of the value you've created. This new asset also gives you another reason to reach out.
The guide should be visual and concise. Keep the paragraphs short. Use lots of formatting. It should also offer to help more with a simple, personal call to action.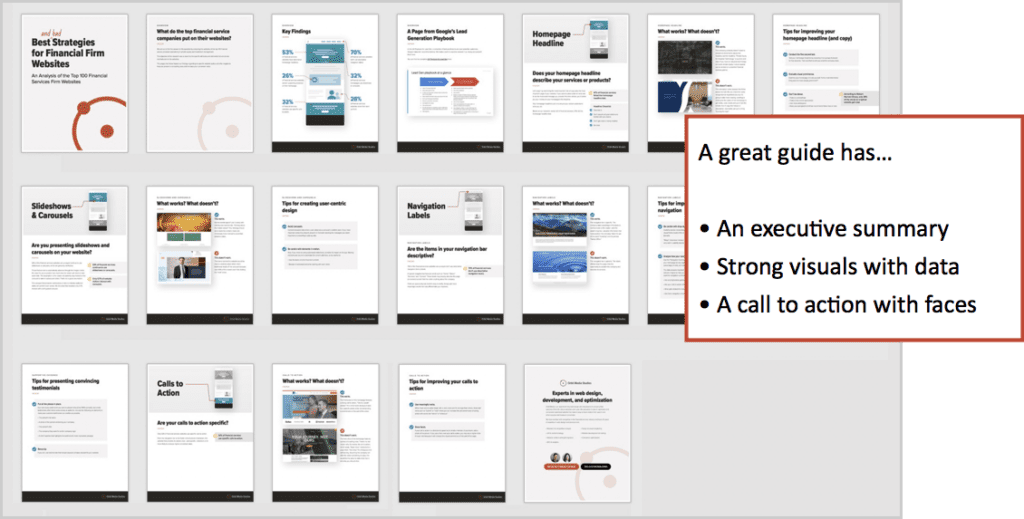 ProTip: Call it a Guide, not an eBook
The marketing team at LinkedIn discovered that click-through rates were higher with the word "guide" which makes sense. "Guide" sounds practical. "eBook" sounds like homework.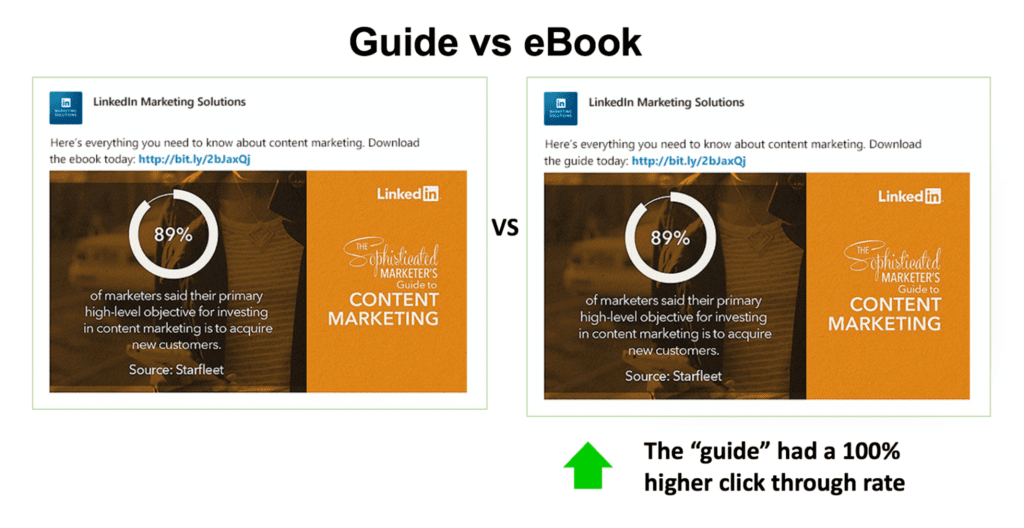 Personalized follow-up and nurture
Everyone gets a thank you message, but a lot of the post-event communication is personalized.
Those who were very engaged during the outreach process or the webinar will get a special follow-up. If they asked a question in the Q & A portion, the follow-up email reflects that and speaks to them individually.
These interactions start with email but don't hesitate to pick up the phone. They know you by now. It won't be unexpected.
The goal of these conversations is to offer more help. For the most engaged and qualified attendees, the offer may be for some free consulting. In our case, this is a review of their website or an audit of their Analytics. We want to give this potential prospect some 1:1 time with a subject matter expert.
The end of the event is the beginning of the nurturing process. Save everyone in an event-specific list in Sales Navigator so it's easier to keep in touch. Now you can follow their LinkedIn feeds and comment/contribute when appropriate.
Send something in the mail
Each follow-up call also includes a quick offer to send something helpful.
USPS is the forgotten inbox. Mailing something is automatic differentiation because so few B2B marketers do it. Send your strongest piece.
The printed guide
A handwritten thank you note
A book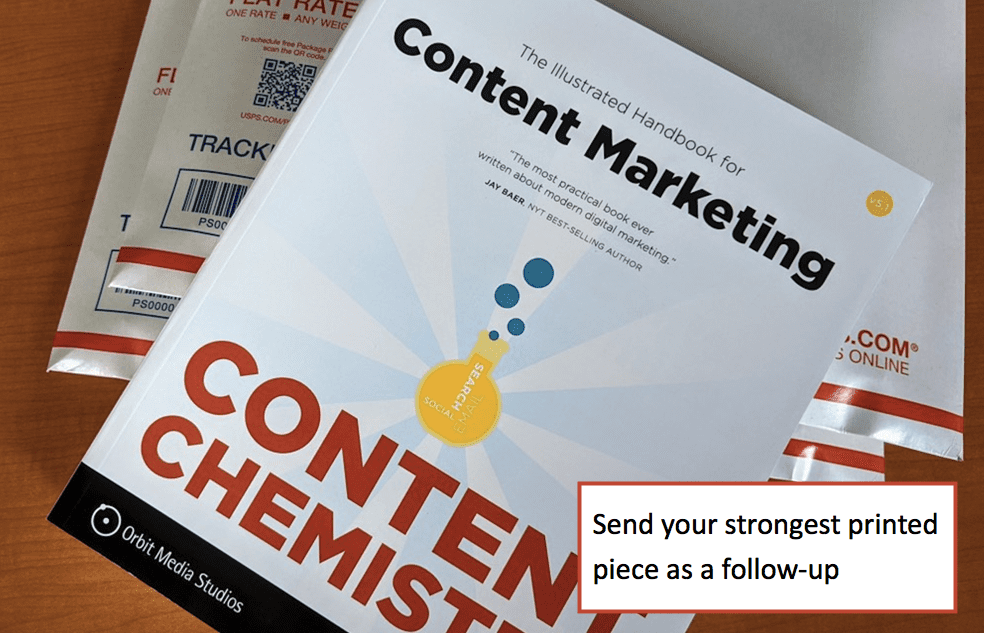 We have the advantage of having written a super popular, ridiculously practical, illustrated handbook for content marketing. We offer to send it to everyone in the post-event follow-up conversations.
This book is filled with lightbulb moments, setting us apart from other web design companies.
…what?! You haven't read it yet? You should check out the reviews!
Extending the ABM Program
One webinar isn't likely to drive results.
A series of webinars presenting industry-specific original research, with strong promotion, given to a specific target audience, with diligent, follow up …that's going to get results.
Here is how we've extended our new ABM content strategy by doing it for more industries with more content in more formats. The red indicates completed work, the gray shows what's next.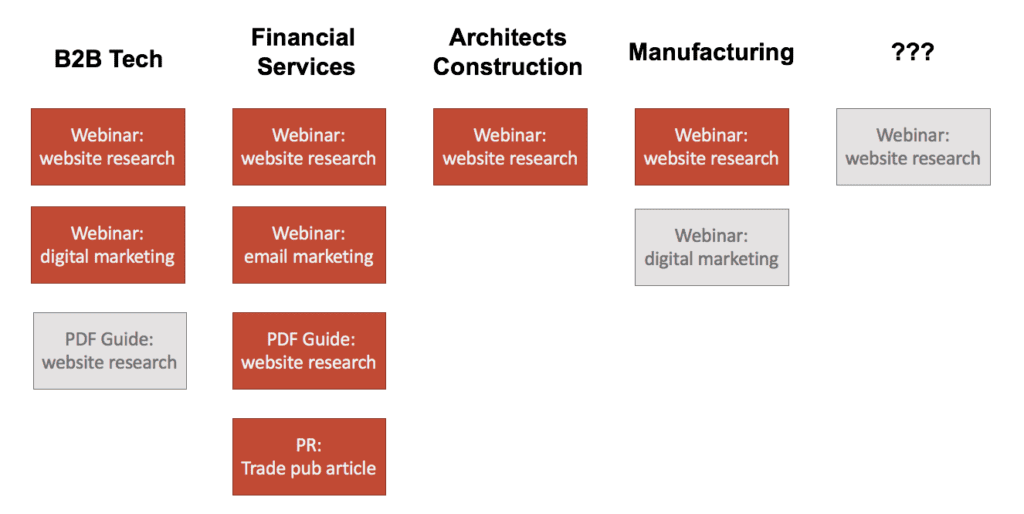 For one industry, we found a trade publication and pitched them an article. The accepted and the piece ran the piece in a printed magazine. The article is an 800 word summary of the research.
One of the best ways to get more value from this content is to keep sharing this content with anyone you meet online. Keep your radar on. If you connect with someone in a relevant industry, share it with them.
Here's what that interaction looks like on LinkedIn: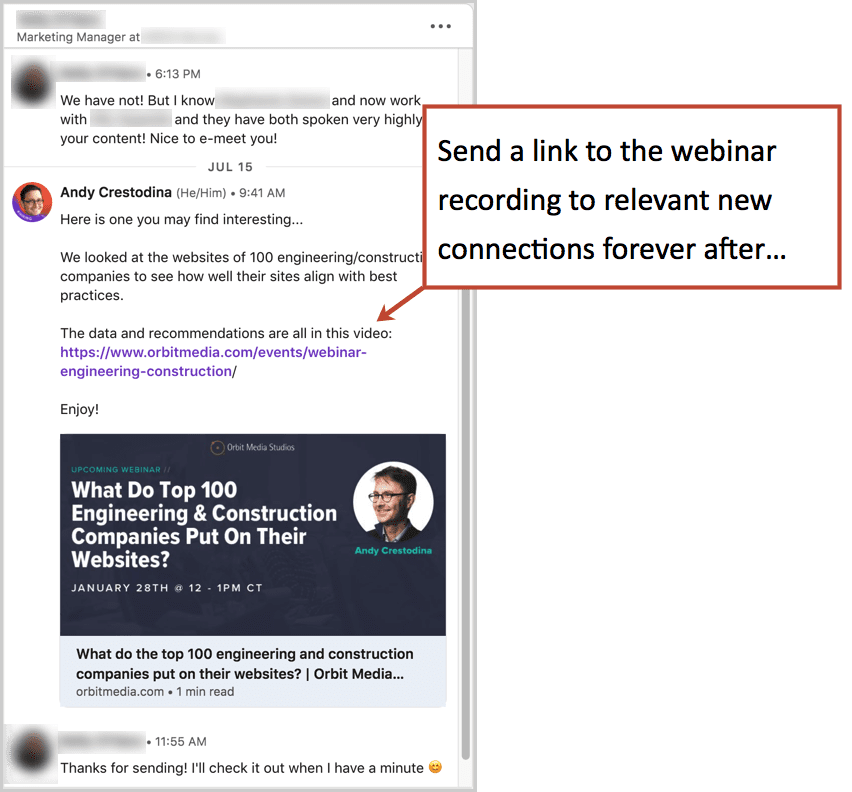 Like any content marketing, it never goes away. The research, recordings, and slides will be on our site for years. We will never stop getting value from these programs.
The Investment and Returns
Unlike a lot of ABM programs, we relied very little on technology or outside services. No fancy marketing automation software is required. Account-based content marketing can be low-cost, like a typical inbound marketing program, but for a more targeted audience.
Here is the breakdown of time, costs, and the returns on that investment.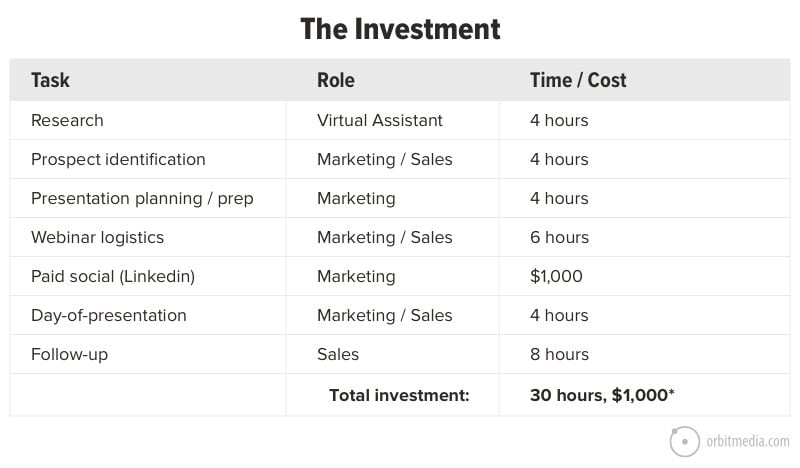 *There are a few tools with monthly subscriptions not included here, such as LinkedIn Sales Navigator and Lead411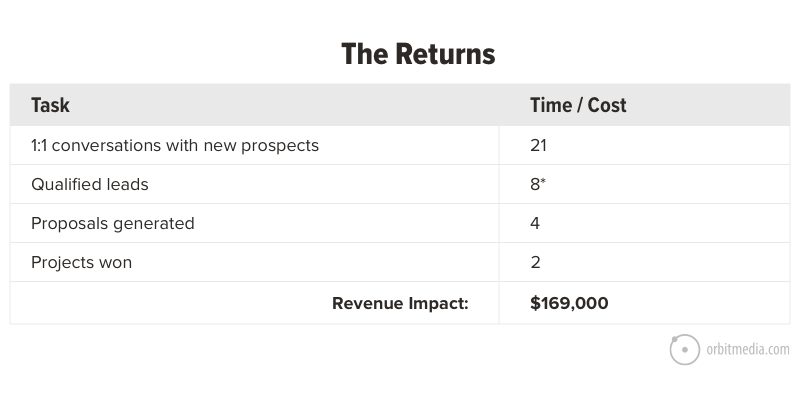 *We suspect that some leads snuck past us and went straight through the website contact form into our CRM. These leads would be categorized as "web lead" rather than "ABM lead." Oh well!
We hope that this example of a content-driven ABM program is useful to you. You are welcome to use any or all of it in your B2B marketing strategy.