To connect immediately with Google's feeds, ensure that visual experiences are engaging, and offer meaningful messages. Create high-quality visuals that delight the eye. Use these three tips to help you drive more sales with up to 3 billion people as they scroll through content on YouTube, Discover, and Gmail.
1. Showcase your products in the best possible way in your images
When someone sees your Discovery ads, the first thing they are going to notice is your images. Ensure that you use the best image quality possible. Furthermore, you should highlight your product so that people will understand what you are showcasing immediately.
Use the highest resolution images (1024×768, 960×1200, and 1200×1200 pixels) to more accurately demonstrate how your products or services work. Also consider using images of people using your products. A recent google internal analysis from Creative Works found that images with people generate 4% more clicks than images without.

Keep overlay text to a minimum. Depending on the device, its appearance may vary, and it can be less compelling for people to scroll through. During a Google study with Creative Works, discovered that images without overlay text drove 9% more clicks.
Google Internal Data, Global, analysis of 27,000 images, 22,000 headlines, and 27,000 descriptions used by Automotive, Consumer Packaged Goods, and Retail advertisers, Jan. 2019–Sept. 2020.
2. Build audiences based on what you know works
Discovery ads can help you reach highly engaged audiences by leveraging audiences, messaging, and creative assets from your previous media campaigns, such as video or social. It is essential to include at least 10 converting Search campaign keywords in every custom intent audience, and to take advantage of Google's automated audience features to see 52% more conversions using Discovery ads compared with their original target audience.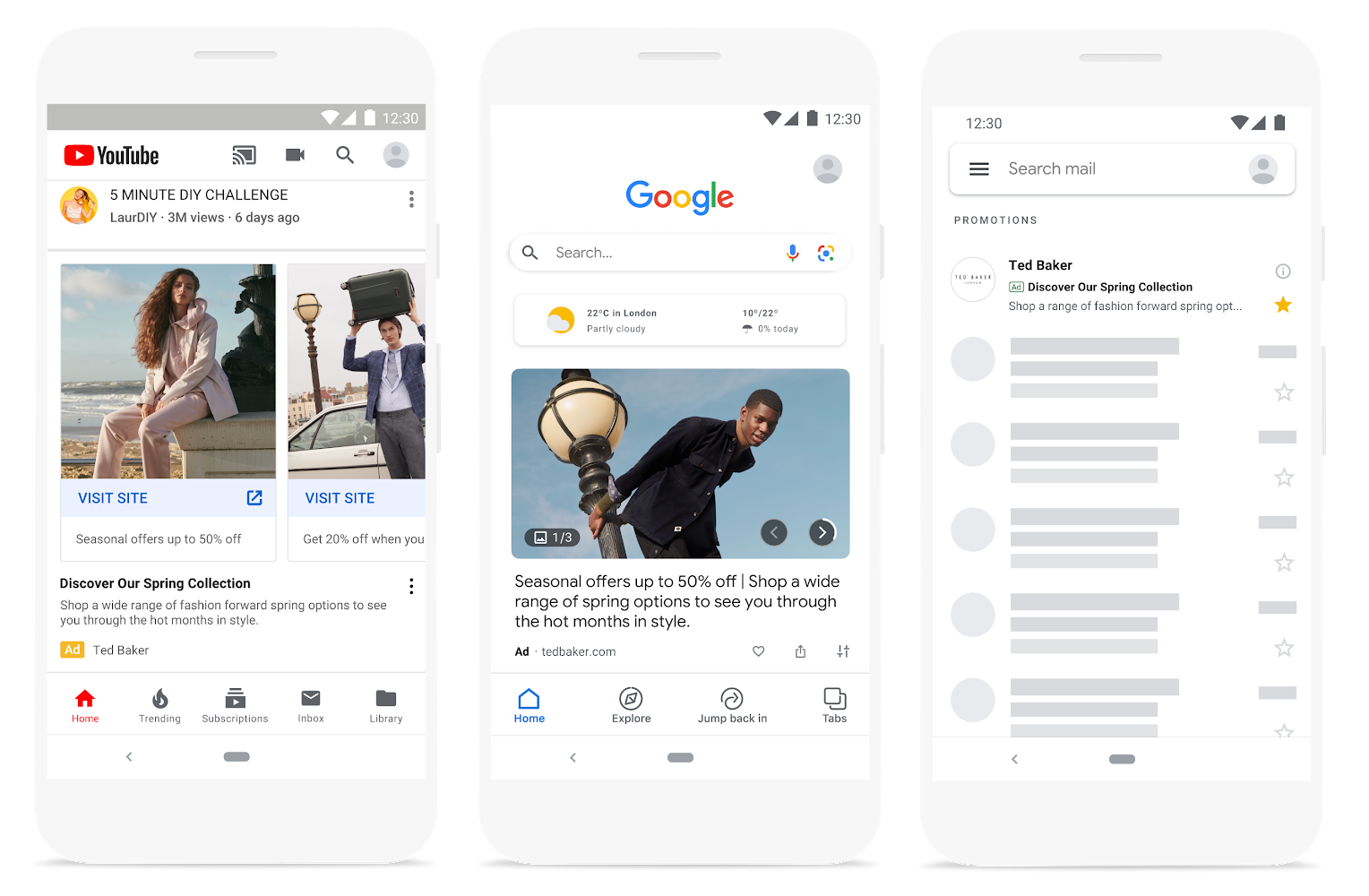 In summer 2020, UK based fashion retailer brand used its social media assets to create Discover campaigns to reach previous website visitors and shoppers looking for clothes. As a result, fashion retailer brand's revenue increased by 70% and their return on advertising spend (ROAS) increased by 62%.

3. Automate your campaign to maximize its effectiveness
For automated campaign types to work, you need a dedicated budget, a wide variety of assets, and plenty of time to analyze your ads' performance and determine which creative assets and bids work best for the audience you are targeting. Over time, your campaign will optimize your settings to achieve extreme performance.
Whenever you're running Discovery ads for the first time, give yourself time and space to figure out what works by choosing a daily budget that's at least 10 times the cost-per-action bid you're targeting. You should then wait at least 40 conversions before making any changes. When you make changes to your campaign assets, audiences, or bids, it may take two to three weeks for those changes to take effect.
To learn how to set up your ads, see Discovery ads campaigns best practices guide.